Pampered pets

United States
May 5, 2008 11:32pm CST
Recently we acquired a poodle from a family member. She is a really loving puppy and when she arrived in our home, she came with a wardrobe including outfits, bows, and painted toenails. I would like to know how many people pamper their pets, and if so to what extent. I wont even mention that she gets meals cooked specifically for her from time to time. Thats my story, please if you will, tell me yours.
9 responses

• United States
22 May 08
I have 3 inside dogs and they are spoiled, a couple more than the other. My little Shih-tzu has a couple of shirts and I need to do her nails again. When I found her she was a mess from running around on the streets. Mats everywhere. No one claimed her so we kept her. She will also sleep in the bed with the boys. Now my lab, she has to have a certain food, sleep in my bed during the day, and thinks she is the boss. Now my beagle, he just lays around and don't really care. BUT they all goto the store with me in the car and when I went to pick up some meds, the lady gave me a treat for each one of them. I goto walk out the door and they just stare at me like, Are you taking me today? I will only buy clothes for the one if they are on sale, like $3. I buy them off season.

• United States
7 May 08
Well, my dawg is pampered to say the least. She gets meals cooked for her from time to time, sleeps wherever she wants and has her own spot on the sofa. If she wants another spot she can have that too. She has a few outfits that we put on her from time to time and she has several different collars, you know, she has to dress up and down sometimes. She gets her nails painted, mostly red and black. She has a few jersies of her favorite team (The Georgia Bulldogs) that she loves to sport. We have a 14 by 20 painting of her hanging in our living room. We adore her. She really can do no wrong. Spoiled and pampered, just how she should be.


• United States
7 May 08
My dog gets no more pampering than I would do with another person. If she wants to pee, and I'm in the middle of cooking stew, I will have taken her out earlier, and the likelihood is that she just wants to check her pee-mail (other dog scents), so I tell her to put a cork in it for a bit until I have the stew ready to go. Same goes for if she wants to play and I'm about to sleep.

• Philippines
7 May 08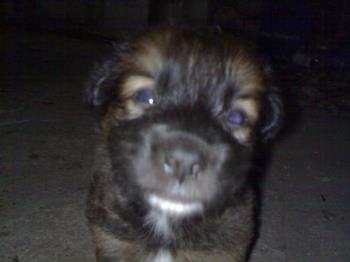 my pets were also pampered and they were really spoiled lol especially my dog lol she nearly destroys my laptop because she chews my keyboard lol if i didn't really love her that much i could have just killed her lol

• United States
7 May 08
no my pet is not that pampered.

• United States
7 May 08
I did not start dressing a dog until I acquired one that needed it. I have a little dog that cannot tolerate the cold weather, so I do need to attire her to get her to do her business outside. The problem is is that you can hardly ever find anything in your local pet store, so dog fashion designers have been emerging to pacify the needs of many. Dog fashions is becoming a big thing. I am actually working on a website right now about it. I am confident your pampered poodle is not the only dog with a wardrobe. Many are getting in on dog dressing. Some dog owners dress their pets out of need and some dress them up because they love doing it, and the majority of the dogs love the attention. I have never personally tried to paint a dogs nails, so I have no pointers on that one . . . not yet any way. Good luck with your poodle.


• United States
6 May 08
She is a toy poodle, and she won't eat puppy food. I could let her starve but i would hate to have to explain that to your son! And it was your neice that bought her the coordinated wardrobe. I hate to shop for human clothes so i know i'll not be buying puppy clothes. She is a cute puppy though.

• United States
23 May 08
I will have to remember that Cat will not be shopping for her. I will have to pick her up a few things here and there...after all, what female doesnt like getting new clothes!!!! :)