I am the pup-sitter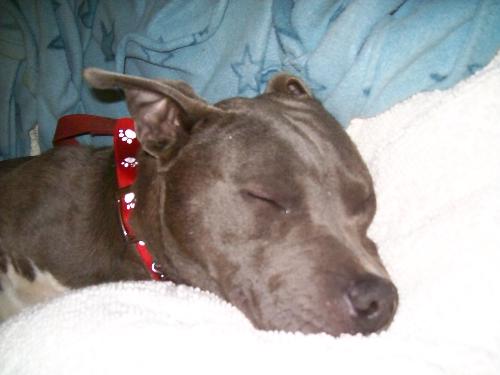 United States
May 7, 2008 9:01am CST
Every morning my son brings the pup. He comes at 6:30 am so he snuggles on my bed and we sleep for an hour then go pee and I get coffee and come back to sit in bed and do mylot thing and he takes another nap. He has his own pillow..hehe What a life,no? xoxoxoxoxxoxo
5 responses


• United States
7 May 08
my cat always starts talking and walking around me when i am in the kitchen. she knows that when mom is there, sometimes a tasty snack may come her way.


• Canada
7 May 08
what a great life for pup and for you, I miss having dogs, I love dogs, all the while growing up there were my best friends. I wish I had another dog, but since I can really do everything I need for it, I do not think that I will ever have them again though.

• United States
7 May 08
That does sound like the life, hehe. I get up and have lots of hungry critters looking for mamma (me) to feed them. The cats wake me up, they also crawl all over me and lay on top of me. We have some baby kittens that go to squeeling for me. The dogs get jumping around, first they want to go out and go potty, then its eating time. The joys of motherhood, whether its the 2 legged critters or the 4 legged critters.

• United States
7 May 08
He has a great life, I have dog sitting dutie's also. my sister's dog is very spoiled they have been taking him every where with them since he was a puppy. so when she is in the hospital and her husband go's to visit her, I stay with him because he's not used to staying by himself. he has the life,lol. I bet the puppy is a cutie and he love's you also for taking care of him so he is not by himself now. as he get's older he will be able to stay by himself, to have the life of a dog. all they need is food, water, lot's of love and a few treat's wouldn't hurt either,keep's them happy.

• United States
19 May 08
Raydene, Hi there. Thank's for the best response, I am back at my sister's doing doggie duty again. as she had to go for her last chemotherapy treatment this week, she has to go tomorrow and Wednesday and then she is done for now. hopefully they got all the cancer with the treatment's and she won't need no more. we will find out in a few month's when they do another pet scan to see if they got it all. xxxoooxxxooo