Do you know where's Malaysia? Have you been there? How do you find it?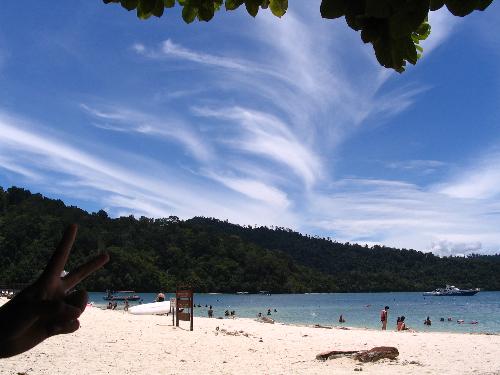 Malaysia
May 7, 2008 10:48am CST
i'm a Malaysian here. i'm curious whether people know where my country is. i used to chat online with people and when asked where i'm from, i tell them i'm from Malaysia, some of the people have no idea where it is or nvr heard of it before. So have you been to Malaysia, if yes did you enjoy your trip? which part of Malaysia did you go? how do you find it, beautiful, fun, interesting? what was your experience? if you're malaysian, have you been to any other states for holiday? how do you find it? beautiful place or island? the best place that i like is Sabah, EAst Malaysa. there're a lot of islands that you can go, and the water is crystal clear. i only managed to go to one island which is Sapi Island, i really enjoyed it there:)
6 responses

• Malaysia
2 Nov 09
I'm a malaysian so in this case I certainly know where my country is located :D From my personal point of view, I think Malaysia is under high development. Although there were a few 'Visit Malaysia Year' programmes few years back, people around the world still do not know where or what Malaysia is!? I hope the authorities especially Ministry of Malaysia Tourism will do something about it.

•
7 May 08
I haven't been lucky enough to visit Malaysia yet but will one day! I work in travel and Malaysia is asked for quite a lot so quite surprising people don't know where it is when you say where you're from. I guess I am just used to it being common knowledge in my line of work that the country exists if that makes sense! Also the countries airline is one of the only 4 five star airlines of the world so again that puts the country on the map a bit! It does look beautiful and I will definietly be going one day when money allows!!

• Malaysia
7 May 08
just like my mum, she works in travel so she knows where's where. you should know where my country is, if not you won't have your job. lol :) probably some people aren't that interested in geography :/ im proud that my country's airline is one of the five star airline. what are the other airlines tht's five star besides MAS & SIA? you'll surely be able to visit Malaysia one day!!Hope you'll enjoy your trip when you come to Malaysia!! God bless you :)

•
7 May 08
lol - yep I have to know where countries are!! If you're interested the other 2 airlines are Cathy Pacific an Qatar. One day! x



• Malaysia
7 May 08
thanks for giving the link. sometimes i don't know whether to be ashamed that some people don't know where my country is, so have you been to Malaysia before?

•
7 May 08
Quoted bobmnu: "It is the piece of land that sticks out between India and Vietnam, Thailand and Cambodia." Really??? Where exactly you meant by between India Vietnam, Thailand and Cambodia??? I don't really think so. Malaysia....if you actually looked on the world map, you would see that it located next to land of smile - Thailand, right under Thailand. Definitely not between India, Vietnam or Cambodia. And in fact, for your information, Malaysia and those countries (except Thailand) are not even connected. So how could it be sticked out between them? And as far as I know, Malaysia is at least two or three hours away from those country - and may be even longer to India - and that is by plane.

• Canada
8 May 08
I have been to Malaysia, yes. To Kuala Lumpur and Penang. Very impreesed. KL is certainly a very beautiful City, and the skytrain is very nice. But, I have not been to Sabah and Sarawak yet. That's where I want to go next time. I know the places are very beautiful too.

• Malaysia
9 May 08
thanks for commenting on my country. im so proud of it. You've got to see Sabah and Sarawak. As for Sabah, there are a lot of islands that you can go and also the famous Mount Kinabalu, as well as hot springs. And you can see long houses in Sabah and Sarawak. There are nice beaches here as well, but you've to know where it is, because sadly the sea here in certain places are quite polluted :( Anyways, hope you'll have a great trip the next time you get to Malaysia :)


• Holiday, Florida
14 Apr 09
i think i would very much like to see it some day. i hear its beautiful. and the people are very nice.