AVG 8.0 released!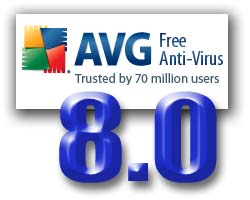 Philippines
May 7, 2008 4:01pm CST
Free AVG Antivirus 8.0.100 is now available with improved detection capability and real-time protection. It's FREE for personal, single computer and non commercial use. Aside from protecting us from viruses, worms and trojans it comes with an Anti-Spyware for intrusive spyware, adware and identity-theft. Its virus definition and scan engine is auto-update and it offer us configurable scanning schedule for unobtrusive system scan. Visit these sites for more info: Protection level: http://free.grisoft.com/ww.download-avg-anti-virus-free-edition#tba1 Limitation: http://free.grisoft.com/ww.download-avg-anti-virus-free-edition#tba2 Download: http://www.filehippo.com/download_avg_antivirus/
8 responses

• Manchester, England
10 May 08
I apprciate the value of AVG and have used it in the past, but I am a great fan of Norton antivirus. Many people have problems with Norton because they install the whole suite, which will seriously slow down the system, but the antivirus alone is never a problem. I still use AVG for friends and colleagues who bring their computers to me to sort out, and have recommended it to a lot of people over the years. I often wonder how such companies can provide programs of that level without cost.


• United States
10 May 08
What I noticed with Norton Antivirus is that it uses too much ram. In fact that's one of the reasons I uninstalled it. It just used too many resources and AVG doesn't use too much. Plus I don't want to pay for it each year. Pablo

• United States
7 May 08
Too bad the free version doesn't offer protection against drive-by downloads. Norton 360 does, as well as all McAfee products, including VirusScan Plus. Unfortunately, McAfee is a bit heavy on resources these days, while Norton has lightened up considerably. Personally, I don't bother with antimalware anymore; I just lock the kernel: http://invincible-windows.blogspot.com/

• Philippines
8 May 08
Safe download is one limitation of the free version, but its real time file-access on demand scanning may cover this ground, beside its free, and for those who can't give time to tinker on techy stuff this might just do the job. Thanks for sharing Santuccie.

• Philippines
9 May 08
I would rather take the lighter view. I've been using AVG for quite some time now in combination with another excellent free tool the PCtools Firewall. I never have locked my kernel but so far it manage to thwart those nasty mutating viruses, lucky I guest. I even tried out Kaspersky one time to see if AVG did allow any, after the complete system scan - zero. There I figured AVG is doing a fine job, though I must admit Kaspersky(or other paid AV) has a lot of extra useful tools. This will all boils down to how we use our computer, you have your needs and I have mine. So far AVG is consistent among the top ten anti-virus reviews, plus the fact that it is free, this is good enough for me to trust AVG.

• United States
9 May 08
Ah, you didn't tell me you had PC-Tools Firewall. You're in good shape then. Which top ten reviews site are you talking about? Is it this one? ( http://www.toptenreviews.com/ ) This site is a scam: http://www.av-comparatives.org/seiten/ergebnisse/AVTW.pdf I am a PC repair technician; I know my Web safety practices. But you need to understand that things change. It doesn't matter whether or not you're looking for trouble anymore, because trouble is looking for you. Drive-by downloads are something even Granny needs to be protected from. You never know when your e-mail provider's Web site will be infected (unlikely; most of them secure their servers pretty well). Ever read about this? ( http://blogs.zdnet.com/security/?p=15 ) Again, you have a decent firewall that will protect you from a lot of Web-based exploits. An even better one is Online Armor: http://www.tallemu.com/free-firewall-protection-software.html Hope this helps!




• Philippines
6 Jun 08
I haven't evaluated avira too for a longer time. I've read from one discussion here that avira has been around for 6 years and it sure is making its own name recently. AVG 8.0 has a new interface much better than the older version and its real-time link check when you do a search is really great. You'll just have to pair this with a good firewall.

• India
5 Jun 08
this really a good news. and it is very use full for me. it helps me a lot


• United States
10 May 08
Yes I downloaded it a few days ago. I like their software, and I agree with what the other person was saying. Of course paid software is going to be better, and yes I read in PC Magazine where AVG didn't do too good when the virus/malware stuff didn't match it's records (it didn't detect it). However, I figure that since I don't go on bad sites, and since I don't download lots of things I'll be okay. Plus I don't have money to pay for software...so I figure that it's better than no virus software, right? It's easy on resources, too. Something I can't say for other virus software. I also use Comondo Firewall, so I figure I've got to be somewhat protected since I use Comondo firewall, AVG, and Spybot Sewarch and Destroy. Pablo

• Philippines
10 May 08
I see your pretty much covered there as far as malware tools. The most important thing here is safe web browsing practices, even if we have the most expensive antivirus utility and we just ignore its warning and don't know what to do next then surely we will be infected. I see too that you are very aware of this things. Some times having no money brings out the best in us

. Thanks Pablo.