Toilet Paper: Plain or Patterned?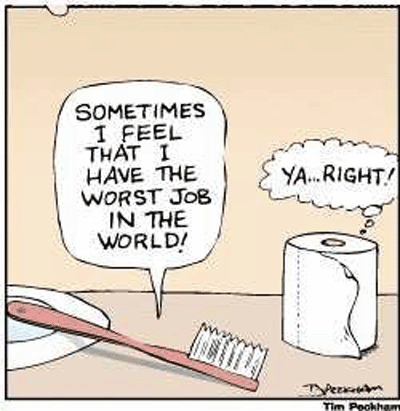 Australia
May 7, 2008 7:47pm CST
Okay, this might not seem like a big deal to most, but one thing I am really picky with is my toilet paper; it has to be 3 ply, and it has to be unscented and plain print. I don't know why, but scents and patterns (like the shells, dolphins, leaves etc) just really irk me. And my boyfriend bought 16 rolls worth of such toilet paper yesterday, and I didn't realise until we got home, because the package was blue, not see-through.

lol. I'm using it, and I'm dealing with it, but ugh. It feels wrong =P So, are you guys picky? Do you have a preference, but not really mind? Tell me, I'd love to know =D Or any similar "unreasonable" preferences. =D Mal.
8 responses

• Abernathy, Texas
15 May 08
I like unscented because I get migraines that are triggered by scent. I also don't like patterns because I don't like to put dyes down there. I think its a preference and I mind. I have a friend who has a preference for the way the toilet paper is put on the roll. In our house the toilet paper is sometimes on the cabinet or toilet top and not even on the roll!

• Australia
15 May 08
I'm specific about how my paper goes on the roll as well! I hate it when people have it coming from the bottom, it has to roll over the top! But I don't mind if it doesn't go on the roll at all, so long as Mia doesn't roll it all around the house =P Yeah, dyes make me a little iffy, I have to say...

• Abernathy, Texas
15 May 08
Personally I'd prefer it didn't go on the roll, but I don't mind either way. I read one response that said the dye came off on her fingers! It does seem a waste of resources to add it too. Is Mia your little sister? You must've missed her while you were at LX's.


• United States
8 May 08
as long as it isn't too rough and my finger don't go through it...I dont care... just dont give me any JOHN WAYNE toilet paper...Ya know what I am talking about...it is rough and tough and it dont take any sh*t off anybody. LOL

• United States
8 May 08
well if you have ever been in the military in the US or have ever had to live off C-rations or MRE's for any length of time...you will know that John Wayne toilet paper and GOVERNMENT ISSUE TISSUE are about the same thing...LOL


•
9 May 08
I'm terribly fussy about my toilet paper too - it must be *cheap* !!! Really, I don't see the point in spending extra money on something you're just going to ... well, we all know what we do with it! I don't think I've got many weird preferences. In fact, I can't think of any right now. I guess I can't afford to be too choosy around here as there's not too many shops close by. You take what you're given, or do without!

• Australia
9 May 08
Unfortunately, in my sleepy-little-sh*t-hole-town, all we really have is a heap of grocery stores and supermarkets, so we have a lot of choice when it comes to house-hold shopping, but no entertainment =P I used to feel guilty about spending the money on the luxury of softness, when it just... goes... but after trying out numerous cheap brands, I realised that for me, it's worth the comfort =P I do still get the cheapest of the plain 3ply, though =)


• Australia
9 May 08
Lol, I suppose that's true. =P Then again, with my experience of some teenagers at school, it doesn't necessarily get any better with age. Apparently the coolest thing for people to do when I went to school was wet the toilet paper and stick it to the ceiling/down the toilets/sinks etc, but you know, maybe that wouldn't have happened for them if it was actually soft enough to use =P When I was living with my boyfriend and his family last year, his 7 and 9 year old siblings both managed to use the "right" amount of toilet paper (and only broke the toilet seat =P), and we could maintain 3 ply comfort, so if I have kids, I aim for the same =)

• United States
8 May 08
Hmmmm lol. I like my paper towels to be plain white I guess because I had a bad experiance one time I bought a roll of cheap ones and the "print" ink came off all over my hands. I thought that was disgusting. Toilet Paper I dont really care as long as I have some:)


• United States
8 May 08
I don't like a scent or a color to my toilet paper. Aside from that I don't really care what it looks like. I am flushing it anyway. I just buy whatever is the cheapest!

• United States
8 May 08
I think that plain is the best one. It's usually more cheaper then the patterned. I don't really care about the design, i just care about the quality and texture. Since it is used for private reasons and it is used to clean your junk :) I dont think it should be a big issue.

• Australia
8 May 08
Quality and texture is what I'm about, and I don't know if it's just all in my head, but I swear that the patterned paper is coarser, even when it's 3 ply and of the same brand as my usual toilet paper. I agree that it shouldn't be a big issue... but somehow for me it is =P