Does your dog like to be covered up?

United States
May 7, 2008 7:59pm CST
I have a Jack Russell and she is the best dog! Sometimes, during the day when nobody is home but me, she will disappear and I'll look for her just about everywhere. Most of the time I find her curled up under a blanket asleep! She's so cute, she loves to sleep curled up behind my legs under the blanket at night. I just wonder if that's normal or if she's just a very "special" dog?!? Lol!!
5 responses


• South Africa
8 May 08
i have a fox terrior which is probably very close to jack russels, and he doesnt like to be covered up -- only when he is sleeping with me on the couch. I will cover him with me under the same blanket. But when he is awake he wont let me do that. When he wakes up gradually from sleeping he will show up his nose first and start sneefing for some time without opening his eyes, just look like a Wolf Granny in Red Cap

• United States
8 May 08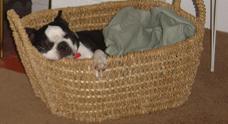 Oh yes! My Boston Terrier and Rat Terrier, Gus and Cookie, love to snuggle under blankets. When we go to bed they get under the covers, one on each side of me! Gus' favorite hangout is a basket with a blanket in it. He usually burrows down until he can get part of the blanket over him! I've attached a picture, he's so cute!