School projects, do you help your child?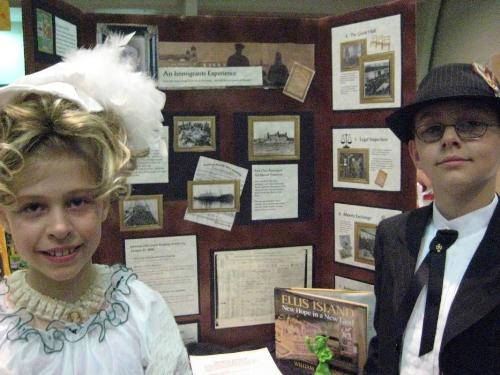 United States
May 8, 2008 7:02am CST
It seems as though there are more and more "board" projects each year. My twins are in 4th grade and had a Science Project, A Book Report Fair, and a Social Studies Project. Each of these had a 1st, 2nd and 3rd place at school level and then again at a county fair. The Social Studies went on to a state fair. I think that there is so much pressure on the child to do well that many of the parents help their children with the projects. My kids took first in both the science and social studies fair at the county level, and they went on to the state level for the social studies fair. I couldn't believe that 10 year olds could do some of the projects that we saw there. IT was pretty obvious that parents were actually doing the project boards. Some help is ok, like checking for spelling errors and helping them decide how to arrange the items, but totally doing the project is just outrageous. DO you think that parents "over help" due to the pressure to win?
8 responses

• Philippines
9 May 08
Most of the projects of my son- I leave it to him to do most of the tasks. But when he asks me or if I feel he needs my help I help him do some tasks for him. Projects are one way of developing their skills and creativity so it would really be good if we just assist them but not doing their project ourselves.

• United States
8 May 08
I don't think parents help to out win. I think they help cause the stuff thats being thrown at our kids is way too much, too fast and before you know it before they can absorb anything they are move to the next thing. We are producing a bunch of kids(I should say the school system) who are overworked, neurotic and overweight. Teachers don't want to teach. Kids don't want to learn. And parents just complain but do nothing. So, most kids will end up on meds. Only few will be able to attend college, cause have ya check out tutions lately. (forget tutions, how about just the application costs) There are no winners here, except the politicians. Who by the way can read and write, cause most of the olders ones came from my error when we were taught a tried and true curriculum.

• United States
8 May 08
I think some parents do the projects for their kids. I understand they want their child to succeed. but you can't be there their whole lives. My ten year old had to do a science project that had the same criteria as you mentioned above. I helped him decide on what to do, helped him arrange it, and checked his spelling. but he had to do the research, do the experiment, tell me how to do it, so he could be able to tell the judges. He didn't move on, but he didn't mind, he was really happy with his project and how it turned out. He learned something and thats what matters.

• Canada
8 May 08
i think some school projects are quite beneficial because it helps the child learn more about a specific thing or country. my 11 year old just did a large project on ancient china and i bet she will remember it for awhile. i still remember that i had to do a speach on the Triangle Shirtwaist company in 1911 when i was in grade 5! i am sure that parents help to an excess, but how can you stop that? i have to admit that i have helped my daughters type out their projects/reports for them because i am a faster typist...

•
8 May 08
I don't think we really get projects like this in the UK - at least I've not come across any. My eldest is only 8 so is in Year 3 - not sure what the equivalent is in the US. He does get 1 1/2 hours of homework a week which I try to help him with, but don't do it for him. I like to think that I wouldn't do the work for him - at the end of the day, whether he won a prize or not, as long as he did his best it would be a winner for me! Babs x

• Iran
8 May 08
hi: i agree with you.i think kids of these days ,they only want to win and they do anything to reach that goal (even let the parents do their science project).they so busy with not loosing that they don't care about learning any more.it's a shame realy because we make them that way.

• United States
8 May 08
I say yes yes yes! I've seen some of the projects in my daughter's classes and they are worthy of being placed in an art museum. One of the teachers even told me she wasn't going to assign them anymore because most of the kids didn't do the work. There is a lot of pressure on kids to do well, but sometimes these extra projects seem like a waste of time to me.

• Philippines
8 May 08
I got also kids in 5th grade and 3rd grade. When their teacher gave them project I first look at it if my child could do well I don't have to help them All I can share was just checking their work if it's right and good. But sometimes I'm afraid that the teacher are over do it. They are giving the student so much like for example they draw something and obviously the student is not the one who do it he cannot draw a galaxy with the nine planet on it. My child try to do it but he gave up and tell me if I could help him draw it 3rd grade. Well I did it. My concern is they should know the capability of a grade level before they gave them a project they should be sure that the child is the one who did it because he knows how to do it.

• United States
8 May 08
My son has not had any projects where you win prizes in his school yet except for a fire prevention poster contest. He will start getting them next year I am sure. Some parents help their kids way to much by almost doing the project for them while other parents won't help for even a second and that is not fair to the students.