How many of you have been in an actual fist fight?

Philippines
November 1, 2006 4:39pm CST
3 responses

• United States
2 Nov 06
I've never been in a fist fight, just verbal. I almost got into one though when another girl tried to steal my boyfriend.

• United States
2 Nov 06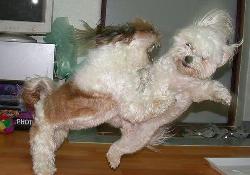 I had plenty of fights. I honestly can say around 40 and up fights. Didn't lose once but got injured a lot. I'm the type that doesn't back down or give up. One of the main reason why its so many fights was that one time, about 14 people ganged up on me, I was injured like crazy, not sure if you consider that one a fair fight for me since it was a surprise attack from the back and 14 people. After that time, each and everytime I saw someone that ganged up on me, I had to beat them up. btw, i just looked like a nerd or something back then, but I definitely loved to fight.

• Philippines
4 Nov 06
14 people? wow sounds like an action movie to me hehe

• United States
2 Nov 06
I did when i was in grade school, i punched the kid in the face and we got broke up, thats the only one i've been in.

• Philippines
2 Nov 06
ah so you're not the type who does it for the fun of it hehe