What are you proud about your mother?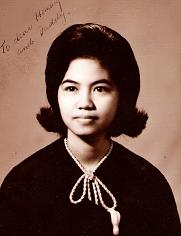 Philippines
May 9, 2008 11:37pm CST
We all love our mothers and proud of them one way or the other. I am so proud of my mom for the several accomplishments she had and for the love, support and care she is giving us. Moreover, she was able to balance her career and family well. My mom is of great courage and strength being a widow at a young age of 41, she was able to send us all 5 siblings to finish college and was awarded as a Ten Outstanding Women in the Nation Service. She has a doctorate and have written several books in her chosen field and at the age of 62, she is still very active. I could list more of her accomplishments but as a mother myself, I wish to do the same to my children. What are you proud about your mother? Happy Mother's day to all Women out there!
8 responses

• China
10 May 08
my mama haven't got a decent diploma as yours nor as outstanding as yours but she use her own way to show her love ,she did her best to support me .when i was young she told me what is right what is wrong .

• Philippines
10 May 08
Although my mom has good education what more important is how she was being a mother to all her children despite other things in life and I'm happy for you having such a good mother.

• Canada
10 May 08
my mother is my mother, we did not have a good relationship when I was a child, but she does make a very wonderful grandmother and greatgrandmother though.

• Philippines
10 May 08
Im sorry to hear that your relationship was not good but its nice and I guess she compensated that to being a great grandmother and great grandmother now.

• Australia
11 May 08
my mum cares about her children very much and always make sure to do everything that she can for our well-beings... she had done a great job in caring and bringing us up... teaching us the things that we need to know in life and fulfill our needs... she also always give us good advice that we need for our lives... even though she can be very fierce to us sometimes, but again it is for our well-being... i love my mum very much... happy mothers day to all the mum out there... take care and have a nice day...

• Malaysia
12 May 08
sounds like you hava a 'Supermom' !!

my mom is very average.. she's a homemaker.. never worked outside the house.. didnt really have a 'high education'... but she's all smarts just the same... she's totally different from most of my friends' mothers.. she's very innovative and creative.. dependent and strong-willed... for someone who is 'old'.. i find her very modern in her way of thinking.. for someone who never worked or socialize in the 'working world'... i find her an 'exposed' and 'open-minded' person... no matter what the 'standards' are... my mom is special in my book... as every mother should be special in everybody's book.. just simply because.. she's a mom !!

• Indonesia
10 May 08
Well, she is wonderful: independent, strong, loving her children, who are us (2 sons and 2 daughters). she has been our single parents for 27 years, since my father passed away in 1981. she is not an educated woman, but still, she is my best teacher in my life.

• Philippines
10 May 08
That is nice to hear and often single mothers are strong in raising up good children. I agree with you that mothers are one of the greatest teachers in our life.

• Philippines
10 May 08
my mother worked so hard to instill values in me. She set herself as an example. She showed me the value of being honest, hardworking and courteous. She made me the person I am today.

• Australia
10 May 08
The list of my mother's accomplishments is probably endless also - she's a truly amazing woman. She paid her way through university after her parents divorced and neither could support her financially in that area, she along with my father, raised my sister and I to be conscious and aware, intelligent and strong young women. She also balanced her work and social life with raising us - spending hours with us each day, making the most of our time together and providing us with necessities and leisures. A few years ago, she rediscovered her love for the stage and theatre, and got our entire family firmly involved in our local theatre company and productions, eventually writing and directing her own successful plays as well as some well-known favourites, and earning chorus and lead roles in a number over the past few years. This October, she will be directing a production of "Hello Dolly!". She's her own person, she's strong-minded, intelligent, witty and has great music and dress sense =) And she's also a fantastic cook and taught me almost all that I know in the kitchen =) I love her! =)

• Philippines
10 May 08
Congratulations for having a mother like your mother. You must be very proud of her. My mom is just a simple woman raised from a poor family. But I am very proud of her. Even if she wasnt able to finish her studies, she did her best and really find ways and means for us her children to finish school. I love my mom and I am praying for the best for her especially now that shes old already. To all mothers, the world over, HAPPY MOTHER'S DAY!!!