What Went With....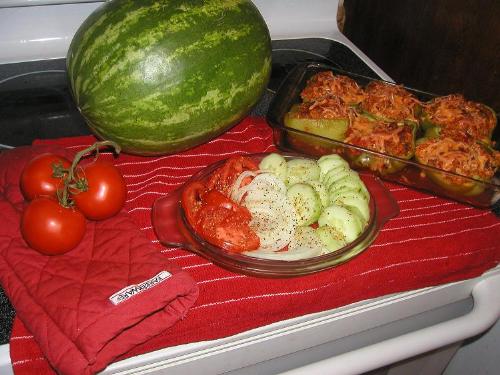 United States
May 10, 2008 12:41am CST
Thank you to all those who offered suggestions. What we decided to go along with the stuffed peppers was:herbed tomatoes, cucumbers and onions sweet corn on the cob garlic bread (lightly broiled) and watermelon for dessert - but all were too full from the meal. I took a picture but did not include the corn or garlic bread in the picture. The yellowness of the corn really contrasted well with all that green and red. To make the peppers I browned some ground beef (would usually use sausage but due to a child who can not process fats we went with 96% lean gb) with onions and garlic and italian style seasonings To this I added a few cups of spaghetti sauce and some fat free mozzerella cheese shreds and simmered for a bit. Meanwhile I cooked up a bunch of rice and added 5 cups to the meat mix. I washed the peppers and sliced them in half lengthwise (rather than having them stand up with the tops cut off) I did not pre-boil the peppers. After removing the seeds I filled the pepper halves with rice/meat mixture and set them in the baking dish (I first put down a layer of tomato sauce in the baking dish) after the peppers went into the baking dishes I added a drizzle of tomato sauce over top of them as well as some shredded fat free cheddar cheese. I baked them at 400 for about 30 minutes. they were very tasty! though I still think sausage tastes better.
3 responses

•
12 May 08
Modestah this meal sounds and looks absolutely delicious and that is coming from someone who is not to keen on ground beef ( we call it mince)! I would love to try this but just making pasta leaves me drained and shaky so I am going to have to try and persuade the other half to make it! xxx

• Philippines
10 May 08
hi modestah. wow!!! it seems you and your family had a great time yesterday. thanks for sharing the recipe. i'll be trying this myself. as for what will go with it. i'm guessing probably some garlic bread as well. do keep posting your culinary adventures modestah.