Dogs Vs Cats - Which is the most intelligent?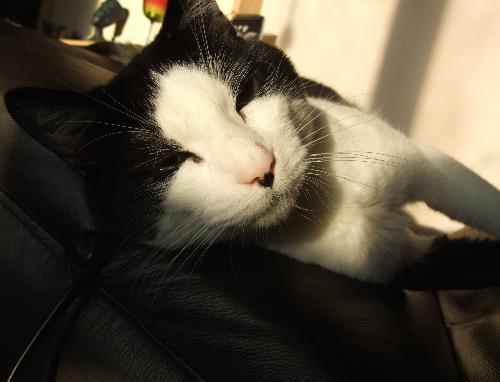 May 10, 2008 3:57am CST
Which in your opinion is the most intelligent? Dogs can be trained to do a lot of jobs including drugs searching, searching for hidden bodies in collapsed building, they guide the blind the list goes on and on. Cats, well they refused to be trained, they're free spirits - does this make them the most intelligent of the two?
5 responses

• United States
10 May 08
I believe cats are, on average, more intelligent. Mostly because they learn more quickly than dogs tend to. Not always to do stuff, mind you, most cats believe it to be beneathe them to do what humans say, but they can learn a hundred human words a month. And catch on pretty quick on words we associate with things that're important to them. Dogs can take months to learn a single word...though they're eager to do what we say (which is mostly due to the pack mentality, and the fact they love us unconditionally...their programming in other words, as a critter lol). There are exceptionally smart dogs, this is true and those ones may be smarter than cats...but they're not the average. Plus, scientists are not sure whether or not dogs have a language per se. Cats scientists are pretty sure that they actually do. And if they're born knowing it, which is possible, then they're plenty smart indeed.

•
13 May 08
Great answer, I wonder whether cats know their origins as gods in Egypt - it makes you wonder how especially how regal they are!

• United States
13 May 08
*smiles* It is a neat thing to think about. Though I always thought that the Egyptians and their fondness for all things beautiful just kinda got it right. Like they sensed what cats thought of themselves, got some inspiration from their own culture...and then instant perfect atmosphere for kitties lol.

• Philippines
13 May 08
i cannot say which is more intelligent between dogs and cats. Both has their own unique personality. Though it is common to see someone training a dog but there are also some people who trained their cats for some tricks. Like here in the Philippines in one of our province there's this man who trained his cats on some basic tricks like turning on and off the light, getting something from a bag and so on. Perhaps it is on how we treat them and how we focus on their capabilities that's how their talent comes out.

•
13 May 08
Aw love your avatar by the way. Gosh that man in your country must have had a one off cat - I'm lucky if I can get my lazy toads to wake up! thanks for your response!

• United States
10 May 08
You can train dogs but cats don't train to well only because they are stubborn and a free spirit,but cats are smart..My cat had a tendency to bite when stroking him,and i would fuss at him,he no longer does that because when he starts,i say No! and he stops...They are just a different personality but cats are smart..My cat gets mad,and if he is sitting in a chair and you make him get up,he gets mad...My sisters cat eats tuna at 4:00 each afternoon.,and if that cat does not have his tuna,he will fall out on the floor and really act up..I am not saying they are smarter or not,i just think they are different not necessary less smarter than a dog....My dog is smart too buy she is so spoiled ,she don;t mind that well...

•
13 May 08
I love the story about your sisters cat. When I used to work full time my cats used to get fed in the mornings and when I returned home from work one of the first things I would do is feed them, now I don't work full time, but as soon as I walk in the door at any time of the day they expect to be fed!! Thanks for your continued support slickcut!

• India
10 May 08
I think Both are intelligent, because if we see a untrained dog and cat, they both manage their living and both know what is harmful for them. I want to share one thing with you one day i was waiting on the bus stop. a dog came their i gave a Biscuit he ate without smelling it. if the same thing is given to the cat she will smell and then eat. Still i think both are intelligent. enjoy :)

• Australia
10 May 08
Yes dogs seem to be clever in some ways but have they ever tried to train a cat for anything, maybe not, cats may take longer perhaps as they are so independent but who knows dogs can't do anything until they are trained so maybe any animal can...maybe...


•
13 May 08
It's a good theory lilaclady, I'm sure someone has tried to train cats somewhere! Thanks for your response!