polyanthus

New Zealand
1 response

• Cambridge, England
2 Nov 06
They should really be divided (if necessary) right after they finish flowering. If you are in the Northern Hemisphere, then about now (Fall, Autumn) should be good. Dig up the clumps with a fork while the ground is moist and carefully separate any separate plants. The polyanthus/primrose makes a rosette, so it is fairly easy to see what are individual plants. The roots are fairly fragile, so be gentle. Washing the root ball in water first may help. Plant back in the ground immediately or put plants into pots (No 2 potting compost) to bring on indoors. The polyanthus is fairly hardy but does prefer cool, shaded and moist conditions (naturally, it's a woodland and hedgerow plant).

• Cambridge, England
2 Nov 06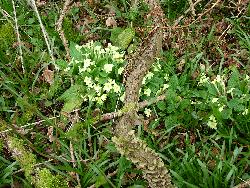 There was supposed to be a photo which seems to have disappeared. Here is another!