Driving/or not??

Canada
May 11, 2008 6:46am CST
Hello friends, I often wonder why some people never get their driver's licenses? Boy, the day I turned 16, I had my license and was driving ever since. I find it just gives me so much freedom. You know the odd time my car was down, I have had to rely on other people - that was awful! So I'm just curious, for the many people out there, including my brother-in-law who also never got his license and he is in his late 40's. Thanks for your input. Cheryl
4 responses

• United States
11 May 08
I got my driver's license at 16 also. My boyfriend didn't get his until he was 22, that amazed me! I often wonder how people can live without it! My car broke down and I was without one for about 2 months and it drove me crazy! I have a few friends who never got their license and they have yet to give me an explanation that I can understand. I guess to each his own.

• Romania
11 May 08
Hy, Whell Where I live we may have driver license just when we turned 18, I just started driving, Its better than almost everything, As you sad It gives a lot a freedom, its easy you just have to be prepared for everything. I think everybody shuld have a driver's license, were living in a modern world, in a few years I hope everybody will have an airplane ore helicopter license, Greet.

• United States
11 May 08
I also got my driver's license when I turned 16. I would have been miserable without it! I have a friend who went through driver's training and got her permit, but never got her license. I think it is because when she was learning to drive she drove right into another car when trying to turn a corner. I was with her and she was really upset about it. I told her it wasn't that bad, but she hasn't driven since. I sucks too because her dad GAVE her a car and she just never used it... I would've loved if my parents did that for me

Anyway, she is almost 22 now and doesn't drive... she is always asking for rides and never offers to pay gas. I think she is still living in high school when she expected her mom to take care of her and drive her everywhere. Well, I am not her mom so I stopped hanging out with her.

• United States
12 May 08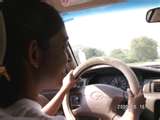 Hi Cher, I wondered what had happened to ya. Glad to see you're back. I have a niece in law who doesn't drive and she's in her mid to late 20's and has three beautiful boys but yet she's never had the desire to learn how to drive till now. I had my learners permit when I was just 16 too and got my license when I was 18 and have been driving ever since. I couldn't imagine myself being dependant on someone else to get me from one place to another for I'm too independant.