Mohawk hairstyles....do you think kids should get one if...

United States
November 1, 2006 7:49pm CST
they want to support their football team? Is it a tradition to look intimidating like that if you're having a good year or something? Just curious if others have done or allowed their child to do this...Please share.
2 responses

• United States
2 Nov 06
When I was in high school the football team would shave their heads if they had a good winning streak. My thoughts are that it is only hair and it will grow back. If the worst thing your child does is something funky with their hair...count yourself lucky. Also...having a GOOD after school activity like sports or theatre or whatever is a great thing for kids. Go ahead and let them shave away!

• Australia
2 Nov 06
My son is nearly six months old and only has hair on the top middle of his head- and it is really long. It seems to grow in a natural mohawk style which is really cute and kinda funy. When he is old enough to choose he can decide on whatever hairstyle he likes... I think having the choice allows kids to develop independence and personality, what is your opinion?

• United States
2 Nov 06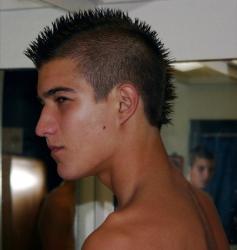 My views have changed on simple things as hairstyles, clothing styles, etc. from learning on my 1st child to the birth of my 2nd child. Yeah, some things seem so innocent and cute, but consequences follow along every choice and decision. The hairstyle you have and clothing you wear create an image to other people. First impressions, usually stay in people's minds the longest no matter what you do. After all these years of saying no to crazy hairstyles, my son shared how he really wanted to feel like part of the football team. His team is 8 - 0 in their league right now, with 2 more games to go. The whole team is getting mohawks to look intimidating. I thought hey, why not, go ahead, but only because you're 8 - 0 and the whole team is doing it, just this Once. No other time. Well, my son had to go to the DMV to have an error fixed on his license and he was bragging about his hairstyle. The woman looked at him and said..."You'll grow out of it...I hope for your mom's sake." There is still a stigma to it.....rebellion, not normal, etc.