Outside plants...should I bring them in?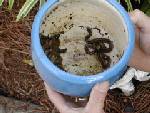 United States
November 1, 2006 8:34pm CST
I got an email the other day about a woman that found two baby copperhead snakes in the bottom of a potted plant that had been purchased in a grocery store. I've had my plants on my front porch all summer and want to bring them in since it's getting cold. I'm a little weary after reading that email though. What do you think? Anyone have any similiar stories to that of the unsuspecting plant owner?
1 response