Why you love your bf/gf?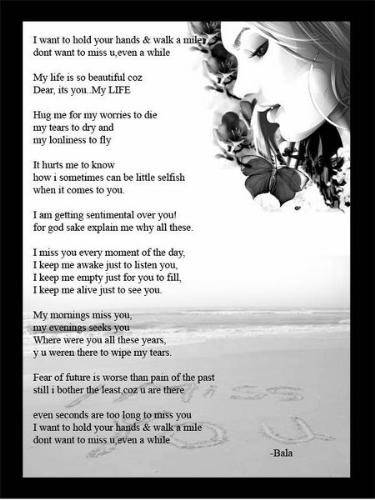 India
May 12, 2008 10:40am CST
Today my friend asked me why i love my bf?? He asked me that we are friends from many years then why u never fall in love with me??Really i dont have ans according to me he is best he is perfact i worship him like god .. then why i am speechless... Do you know why u love someone...
5 responses

• United States
12 May 08
I am in love with my husband for a number of reasons. The first one is as mad as he makes me some times he can still put a smile on my face. When I need some thing or some one he is there for me. When I need a hug he is there. If I need a friend he is there. My husband helps me with household chores, he takes care of our daughter, he loves me unconditionaly as I do him. We have the same values, morals, goals. We are looking forward to the same things in life. We balance each other out. He is the black I am the white and we are the gray.

• India
12 May 08
whatever you sad is true but there are so many things in my mind but i dont have words to explain. he makes me laugh he gives me support. But saying this much is not enough. my friends too make me laugh they too support me but there is somthing different in him and i cant explain it

• United States
12 May 08
It sounds like your friend is in love with you. Do you love your friend? I am married to my best friend. I love him because he makes me laugh, he makes me feel beautiful and loved, He is a wonderful provider and father, He takes care of me and makes me feel secure, He is my everything. I could not imagine living my life without him in it. Loving someone is hard to explain why. I just know that When you love someone you have no choice it just happens. I heard a song once that said she doesn't want a love she can live with she wants a love she can't live without. I have found that kind of love. Best of luck to you and the one you love.

• India
12 May 08
No he is not we are just talking about each othere and he asked me this qus.


• Philippines
12 May 08
why do i love my boyfriend? well, it is very much unexplainable.. the only thing i am sure of is that he is the one that beats my heart so fast.

• United States
12 May 08
Its hard to pin point things I love about my boyfriend. He is simply amazing. He makes me laugh, we talk for hours, we have the same interests and goals. We believe the same things, he is handsome inside and out, he knows what he want. He is just perfect in every way.