Cookie has discovered worms!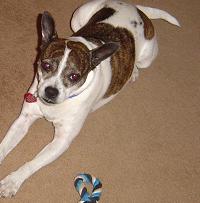 United States
May 12, 2008 4:18pm CST
My little rat terrier never knew there were such things as worms! It didn't rain much when we moved here last May and she'd previously lived her whole life in Arizona. This week, with all the rain, she's discovered that if she digs a little she'll get a surprise!She is so funny, digging around and looking at those worms! She doesn't eat them, she just like to growl at them and jump around to see what they'll do! Did your dog ever discover something new to them that made you laugh?
2 responses

• United States
13 May 08
I also have rat terriers. We were in Arizona a few years ago and they discovered lizzards sunning on the rocks and had a blast chasing them. Now even at home (in freezing Minnesota where there are no lizzards) they will check the top of every rock that they see while we're on a walk - just in case there's something to chase up there.

• United States
13 May 08
They have amazing memories, don't they? Cookie also liked the lizards but especially the rabbits that snuck in through our fence. These terriers are so fast! She'd run down those rabbits and snap their necks then start eating them if I didn't catch her. I had to close the dog door at night because of it! Rat terriers are great little dogs, brave and curious and intelligent and so snuggly!

• United States
12 May 08
That is so funny. Must be something with the rat terriers. My grandparents had one when I was young. She used to ride in the truck with my grandfather and always ducked when he drove under and overpass. Then someone gave my grandmother a wooden toliet paper holder and the front part was a cutout painted like a dog. When she discovered it she fipped out. She wouldn't go in the bathroom anymore and spent hours at a time in the hallway watching it.

• United States
12 May 08
LOL!!! They are SO funny, they're very intelligent and they actually think--she'll plan a distraction for Gus so she can grab the chewstick he has. Rat terriers are amazing, my mom had one in the 20's that could take on a racoon--and win, through strategy and speed!