TOP OIL EXECS SAY: Crude oil price to DECLINE!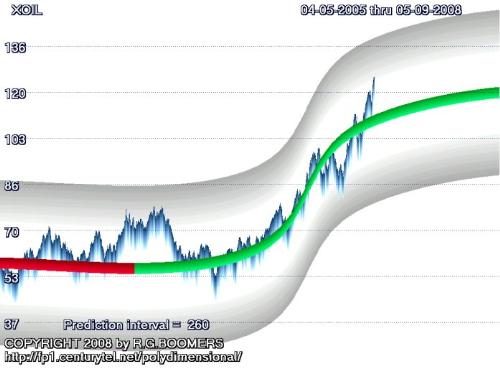 United States
May 13, 2008 7:40am CST
Yes, it is true. A large majority of oil company executives recently surveyed agreed with the statement that oil prices should approach $100 per barrell sometime before the end of the year. Well, so what? Here's the article. http://www.energy-daily.com/reports/Majority_Of_Oil_And_Gas_Execs_Say_Price_Of_Oil_Will_Fall_Below_100_Dollars_Soon_999.html Practically any mathematical model one can construct right now shows that short term the crude oil price is over bought, too high, about to experience a technical short term price correction or however you want to say it, about to go down. Left unsaid is the fact that for the longer term, there is no almost no limit to how high oil might go. The attached chart shows what I consider to be an optimistic projection of trend and trading range for the price oil. What is your opinion of the article, its opinions, the price of oil, the attached chart, or whatever concerning the economy, energy, etc?
5 responses

• United States
13 May 08
So what is right. Just because the price of oil "might" go done does not mean that fuel prices are going to drop. Since oil is considered a commodity, the price is set by the traders. The best way to get the prices to go down is to deregulate the indstry and let the free market work. Open up our own reserves and start using them in order to break our dependency on foreign oil. As to the economy, I think we need to get rid of the FED and go back to the gold standard, as it is a lot more stable. If we want to avoid energy problems, then we need to either resume building coal plants or we need to go nuclear... but if we don't do something soon then we are going to have some real energy issues in the future. We also need to build more refineries, as the ones we have are claimed to be working at capacity... that should lower prices a bit. We need to start rounding up Greenies, and use them for menial labor so they won't be able to contribute any more stupid environmental ideas that make no sense. Goreacle would be a good beginning... find something safe and useful for him to do.

• United States
13 May 08
You are right about the disconnect between crude oil price declines and a corresponding decline in gas price. There is somewhat of a lag there, isn't there? As to lowering gas prices, certainly the government could do more to encourage new oil companies to be created and drill for oil. Tax breaks for refinerary construction? Eliminate protective measures shielding American oil companies from foreign competition? There are plenty of things the government could do to lower the price of oil, but don't even dare talk about it for fear of angering their bosses in big industry.

• Omagh, Northern Ireland
14 May 08
"It's Ok,People! Keep Buying and running Your Hummers..We won't need another Zero on the Gas Pumps...(Yet.....)"!

• United States
14 May 08
Given what is going on in the used vehical market, (SUV's & other gas guzzelers), as to prices dropping fast (even new ones!), I think people are starting to get the idea.

• Philippines
14 May 08
That's not good enough. I want oil to drop back to the $70 level before I can breathe any sigh of relief. I hate this form of energy. Give me wind, solar, hydro, or geothermal anytime!

• United States
14 May 08
For oil to drop to $70, the following needs to be done: 1) USA would need to balance its budget to get the dollar back on track. 2) End protectionist policies for US oil companies so foreigners could compete better in the US market. The competition would help lower price. 3) Tax breaks, incentives, and government support for new oil exploration companies. 4) Tax breaks, incentives, and government support for new refineries. 5) Lift the bans on drilling. Know any candidates even willing to discuss all 5 of these? Me neither!

• United States
14 May 08
Everyone here has already made great points. Oil and gas prices are slightly different, the consumer always has the last say...and the traders set the prices, OPEC being some major countries which produce oil being the main ones we set our sights on in this matter. The Global Economy effects trade, which in turn affects the traders (along with their own personal motives, of course) who set the prices which in turn affects the economy... America seeing some economic troubles, effects the rest of the world. Our dollar used to be one of the most sought after currencies, it was used quite a bit...but it's value has basically been destroyed by debt and inflation. And most of our current troubles come directly from the fact that ours is a broken system, mostly due to flawed policies and greed. And the current wars certainly don't help this matter at all. So unless we can fix this, I don't see how the American economy can get better. You leave this to fester and rot and this economy's health will decline. It doesn't take alot of logic to work this out, either. So if the American economy keeps suffering, our troubles will affect OTHER countries' troubles...for various reasons. And the global economy will have to figure out a way to right itself -- with or without America. Demand is unlikely to decline unless most of the world can figure out and execute a plan to become independant from it, and for many countries this has now become a priority, though their levels of success or how likely they are to go through with it is anyone's guess. Demand hikes up the prices, and there's nothing like an economic crisis to up demand. Especially amongst the well-off...since some may anticipate they may need some for survival purposes, and others will continue on with their lives as if nothing's happening at all. Personally, from my understanding of things how they stand...unless something really significant helps this situation I don't see the price of oil falling back to a reasonable level and staying there for awhile yet. I mean I hope something will happen, for everyone's sakes...not just mine, but I know better than to believe anything without solid evidence indicating it. And I'm not naive enough to put my faith in the rich, the politicians, economists...or business people.

• United States
14 May 08
"I'm not naive enough to put my faith in the rich, the politicians, economists...or business people." Me either! The problem with this particular group of people is that all of them have a significant percentage of their members willing and quite good at lying to achieve financial success. Anyone who does not believe this is naive, unlike you and me.

• United States
13 May 08
The price of gas can only be sold for what the consumer is willing to buy it. This is the same from a loaf of bread to a car. How soon will it bottem out I do mot know that. I do not believe that oil will drop beloe 100 dollars anytime soon. My reason for these believe is that there is enough demand to keep price high. Unless supply increase enough to offset high demand coming from China and India, I do not believe price can go below 100 dollars a gallon. The only away would be to offer an alternative to gas that would be cheaper or go longer on this fuel. Of course as long as gas is the best fuel for autos then an alternative will never be put it place to force down the price of gas. Example Electric car, a great idea, but right now cannot hold a charge long enough, and without more electric power plants electricity will sky rocket. If we had more cheap electric power plants(coal), someone could make an electric car that could go about 200 miles on a full charger, and this car would be cheap enough, this could be a good alternative to force down demand on gas.

• United States
13 May 08
My point about the $100 mark concerning oil is that while it might dip that low, it won't stay that low for the reasons you state (especially the increased demand from India and China) and because the dollar is worth less everyday. Oil exporters want more deflated dollars for their product. I don't blame them, either. Someday, hopefully soon, advanced technology will bail us out of this problem, but we are not there yet.