The Police and his colorum service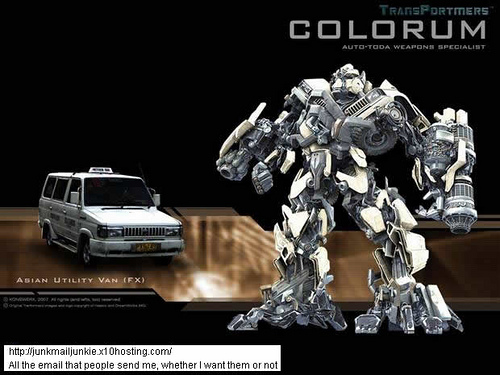 Philippines
May 13, 2008 9:36am CST
I am not really fond of policy-breakers. In fact I dread them. Anyways, with the rate of traffic in metro manila, there has been an increased in the demand of having a comfortable ride, not the MRT coz you would be squeezed in a simulated-sardine-can-like train cart nor the bus because drivers would tend to linger in loading lanes to squeeze all passengers in its body, thus, the increase of people taking an fx ride. FX has been so hot since the mid-90s. Things started with people having an LTFRB-approved FX vehicles, but as time passed by there has been an increased in numbers of colorum vans or fxs. And lately, it has been observed that owners of these colorum vehicles are policemen. Yes. Policemen. They who should be implementing and enforcing the law own these vehicles. Anyways, I still ride these vehicles especially on mondays because they take me to the office earlier than you could imagine, without the hassle of lingering in Edsa. The thing that has been bothering me is when these policemen violate traffic rules, and each time a fellow policeman would question them, they would abuse the fact that they are policemen. I mean, grrrrr, the use of power simply is bothering. Much as I want to be an absolute no-to-colorum person, I can't because these vehicles help me whenever. Anyhow, there are lots of dangers in riding a colorum vehicle, such as meeting an accident, when you something bad happens while you are inside these vehicles you won't be covered with the vehicle insurance. Gosh, I am just ranting on the fact that I hate law breakers and patronizing their vehicles make me an accessory to breaking these laws and abusing the law. Urg! I hate myself in the process. Gosh. I just want to rant.
2 responses

• Philippines
19 May 08
count me in. i have patronized these vehicles for over a year now since transfering from makati to ortigas and with the amount i pay, heck i need to be at work earlier and in less fuss thus i ride the FX. you are correct. policemen owned most of them and they too know where to go and which road to use to avoid heavvy traffic. i think the campaign is ongoing - most are being caught in EDSA. but there isnt just enough MMDAs to do the work and their fellow policemen will just nod and smile at them too.

• Philippines
14 May 08
Oh yes that is very common scenery this days. When they are called for traffic violations they just show their badge and they are not bothered anymore by those police on the streets. I mean they could have at least make their FX legal but they chose not to. I hope the government agencies that is supposed to stop this should do their duty to stop this illegal moves.