Playmobil or Lego?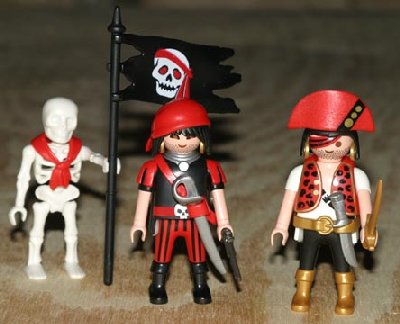 United States
May 13, 2008 11:46am CST
Which are more popular in your household? Which one did you play with more when you were a kid? We were a 100% Lego household for a long time but over the past four or five years I have started collecting a lot of the Playmobil figures.
5 responses

•
14 May 08
Playmobil was my 19 yr old daughter's fave to play with although she did have lego and enjoyed playing with the lego. My ten yr old son prefers lego and is always buiding things, my 8 yr old twins do tend to play with the playmobil more than lego. As a child there was no playmobil, I also had no lego as it was thought in my house to be a boys toy! But I did use to play with my older brothers lego. In those days it was just bacis colour bricks and not much else (I'm 44). I enjoy building lego with the children and playing with the playmobil with the children

• South Africa
13 May 08
I do not know there 'Playmobil's of which you speak. I did, however, have lego when I was younger. I kind of wish I still had lego, that stuff is awesome. You can build so much stuff with lego.

•
13 May 08
Well i cant get over the price of the playmobil figures!!they are just so expensive!!my grandson who is just three he loves them and he has loads of them,but they must have cost a fortune.The pirate ones are his favourite at the moment,and hs bedroom is done out with pirate stuff,but although its lovely,its just a phase hes going through!He has boxes of this playmobil,and his other Nanna bought him a set for christmas last year,and it cost her nearly sixty pounds!!well I was going to get him a set,but I just didnt know what he aleay had.I agree with yuo thats its lovely stuff,but im just hoping that all of his fugures stay in one piece,then they can go on to give someone else some pleasure after he has grown out of them

• India
13 May 08
I played both playmoil and lego. but still I loved playmobil. I was having collection of playmobil which after became my brother's property.:-)

• Sheboygan, Wisconsin
13 May 08
Lego! But then again, there's no reason not to play with both.