A big contraversy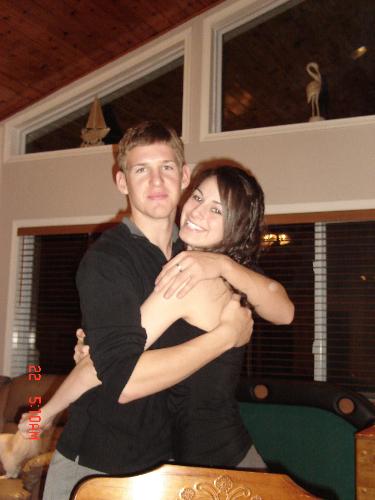 United States
May 15, 2008 11:59am CST
I know that in the world today there is quite abig contraversy as to young marriage. I am17 and engaged to a 22 year old. We plan on getting married next fall. We have been together for two years and i couldnt imagine spending my life with anyone else. I am a true believer of AGE is only a NUMBER. What truely is the big deal? Im not REALLY doing anything wrong.
8 responses

• United States
15 May 08
You aren't going to like what I have to say but I am going to say it any way . I got married at 20 my husband was 28. So please know I understand being married young. I also want to say we married 9 months after we met and NO I wasn't pregnant. We just knew. I honestly think 17 is a little young. Not because of the age but the experance. You will be missing out on many experances because you are married. You aren't doing any thing wrong but you have to realize that later in life you may come to resent the fact that you didn't have time to grow up. If you have been together since you were 15 he was a little old for you to start with but thats another story. You need to be sure you know you are with him because you want to be not because you NEED to be. There is a BIG differance. I know that my husband and I depend on each other for a lot of things but there is a differance between depending on some one and being dependent on them. I hope you know the differance. Some things to talk about before the wedding are: Do you want kids? How many? How will you raise your kids? What about finances together or seperate? Bills will you split them in half or put all the money toeghter and whats left is spending for who ever uses it? What if you make more then him or the other way around? Religion? Will you go to church? If you go and he doesn't is that okay? If you are Cathloic and he is Jewish who is going to change? Politics - do you agree or disagree At what age do you want to retire? where do you want to go? Do you have the same "life" goals? Just remeber if he is the one you two will end up together no matter what. Even if you were to seperate for a while in the end what is ment to be will be.

• United States
15 May 08
i honestly dont beleive that i will resent it later on in life, i dont want to go throught the experiances og getting high, skipping out on school, parties... etc... i do thank you for the advice though, we have talked about all of questions listed, and many more. Thanks again.

• Atlantic City, New Jersey
19 May 08
"if you have been together since you were 15 he was a little old for you to start with but thats another story." I was wondering if anyone else realized this! Thanks ebsharer

• United States
15 May 08
People don't know anything about the condition of your relationship, unless they are in it. It's not about doing anything wrong, it's about everything that will come after. Sometimes, people might night realize how mature you actually are (in your relationship) so there's really no age anyone is to judge. If people were more committed to one another, instead of this dating and cheating crap, we'd all probably be a lot better off. The problem lies in the desires and the things you will think after, maybe once you get married, you'll realize maybe you should be figuring out more things about yourself and what you want, and if you think you got married too soon, then you start to resent each other, as if they are holding you back. But if you've talked about these things, thought about these things, and you know what you want to do with your life, well, who's to tell you you're wrong? We know what is truly best for ourselves, we just need to make sure we're not just trying to prove someone wrong, because that always blows up in your face. I wish you the best of luck, and love ....it's nice to know you have someone on your team :) (him)

• United States
17 May 08
First of all, you are beautiful, and he's a lucky guy. I think I am going to be one of the few on this site to agree with you. While I agree that marrying young is a huge risk, if you both committed to it, you can make it work. If I had actually gotten married when I was 18, I would already be a widow, however I truly considered it, so I understand where you are coming from. While I am with a guy now that is somehow even better, I think I would have been happy even if i had married at 18. Not wanting to do things like smoking pot, getting excessively drunk, etc that you listed in your other answer is not something that you have to do. As I'm sure you are aware, there is a huge difference in age between 17 and 22, but 5 years becomes less and less as you get older(I'm 25 so I'm not completely ancient yet :) ). I know you mentioned something about questions in your other post, but now I've forgotten what it was about. There is a book called 1000 Questions for couples, I would get it from the library(the thing is like 12 bucks, and once you've answered the questions, its pretty pointless). It has all kinds of questions for relationships that you may not have thought of.(there were hundreds that I hadn't even thought about when my boyfriend and I went through it). It's a lot of fun to do if you just pick a question or 2 a night to ask and answer. Congratulations again, and good luck!

• United States
17 May 08
I kind of believe that 17 is young to be considering marriage. But more so it depends on maturity. I was like a 28 year old at 17 in terms of maturity for my age, if your anything like me you may be ready. I have been with the same man for 3 years so far and have 2 beautiful children. Alot of people including my own parents think what I am doing is wrong because you are suppose to marry before you have kids, but I'm still doing it. I can't imagine my life without them. You have to do whats right for you. LOok inside your heart and thats were you'll find the answer. I believe that you shouldn't follow the norms of what society wants, because thats created around a certain group of people and alot of people don't fit that mold. Good luck with your marriage if you go through wiht it. I might as well be married I have everything that comes with it, but the piece of paper. I also believe age is but a number stay strong, and stick to your beliefs.


• United States
15 May 08
I know there is a lot of controversy when it comes to getting married and age difference,I am currently 23 and my fiance is currently 20 and we love each other and too me thats all that matters,I dont care how much difference is between us when it comes to age,because age is just a number,and I dont see it as doing anything wrong,unless there is abuse in the relationship or something like that.

• Canada
15 May 08
Age is a matter of the mind, I you don't mind, it doesn't matter. I am twenty-six, and my husband is sixty two. My family had all kinds of problems initially, but we went ahead and did what we wanted anyway, and we could not be happier.

• United States
19 May 08
I think that 18 is too young to get married. Honestly, as mature as you think you are, there is always more to learn about yourself and the world. I was "ready" to get married at 18 and I wanted to terribly. But I was also aware that I was young, so I waited. I gave myself a goal age to think, learn and be self-aware about how things really are, not how my hormones, emotions, or social pressures told me they "should" be. Now I'm 21 and getting married with both eyes wide-open. I know if I had gotten married then, I would have regretted it, resented it, and probably have gotten divorced.