How to get referrals easily?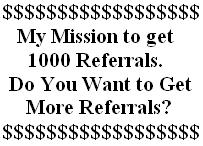 Malaysia
May 17, 2008 4:23am CST
Hi, I started this discussion to find ways people use to get referrals for the programs they join. Personally, I use my blog and GetRef to get referrals. So, what is the technique you use to get referrals? Please share it in this discussion and help each other to get referrals. Anyone interested to get referrals using GetRef can visit my profile, you can see a banner and a link at the top right of my profile. Thanks.:-)
8 responses

• United States
17 May 08
I post my ref link on all the social websites I belong to. I post blogs about my money making opps on all my blog sites. I also use two traffic generating sites that are listed on my profile. And I invite my friends to join me on whatever I think is doing well.

• United States
17 May 08
I built a list. When I find something someone in my list may be interested in I send them an e-mail about it. This seems to work for me. I built my list by giving away software and e-books as well as reports. I have a report on "How to get a Sign-up a day" that I can direct you too. All you have to do is send me your name and e-mail address. I will then send you the information and link to download this report. See it's just that simple to build a list. And if what I give away is good they will register at my site to get more freebies. I have some that will follow me into almost any program. I always help those who join under me. I will sometimes pay their fee to join if I know they will work the program. In order for me to succeed , my referrals must succeed.

• India
17 May 08
Hi sdad86 :) Like you I also use my blog to get referrals and I got some too, but still I don't get enough hehe. My blog is not popular enough and I've now discontinued it. As you said you use GetRef to get referrals, I haven't ever used it so I don't know about it much. But by the sounds of it, it looks good and I'll try it :) Thanks :)

• Italy
17 May 08
Blogs get popular by promoting them. It takes a bit of effort to get it seen but once it starts that spurs you on.

• Mauritius
18 May 08
YOu can also post comments in other blog with your links as nickname!


• United States
17 May 08
Iam using online chat forums, my personal website about earning extra money, my friends on icq and some of the referral getting systems. If you are lazy you will not have any referrals. I have no on bux.to 36 referrals and this is the site with biggest number of referrals for me.

• Spain
17 May 08
this is a good website also you can get referals in forums about this that you have permission to put referals link.