Who do u think is better Bush or Clinton?

India
6 responses

• United States
2 Nov 06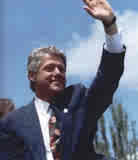 Clinton is better. He's an extremely intelligent man, who did a great job leading our country. The economy was was a whole lot better in his hands and we weren't at war. He was better at dealing with both people and problems. He is one of the World's alltime great rulers.

• Indonesia
2 Nov 06
Clinton!!He is a great awesome Gentleman for me...