Do you have greenery around your resisdence?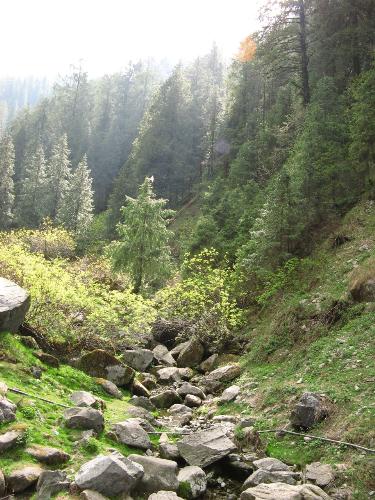 India
May 17, 2008 10:36am CST
How many of you have a lot of greenery around the place of your residence?I am in Mumbai and the place is terribly conjested.It is a concrete jungle.There is greenery in the compound where we live right now and it is a rare thing. But the constructions are vey old and the whole place is up for sale. Once the sale is finalised we will have to move out. Then what would happen to all the beautiful trees in the compound/Only the builder knows. I wish we get another place where there are trees around. The photograph is not that of Mumbai but it is greenery and makes me so happy to just see it.
3 responses

• Philippines
18 May 08
Hi kalav56! I live in a city and most of the surroundings are of buildings and other structures. However, I am quite happy that I live in a neighborhood/subdivision wherein we have some trees and all houses have enough spaces to grow their own garden. I see some greeneries because of that and we do have fruit bearing trees within our yard. However, it will be good to know if the remaining trees in the city's highways will not be cut down but I really doubt that. Take Care and God Bless! Happy Mylotting!


• India
18 May 08
How lovely to see fruit laden trees in your yard?I was fortunate to have this earlier where I had my own guava tree which yielded plump, lush, fruits shining golden in the sunshine.It was a lovely sight to store in your memory. Now I am thankful that I still have trees in my compound.There are no fruits but there is at least eye soothing greenery. Thanks for your response.


• Philippines
19 May 08
I live in a city... but it is not yet that congested... and there are still places where a lot of trees can be enjoyes... a lot of houses also have beautiful gardens... i dream of having one in the future... but for now i live in a small apartment... It is so sad that the area you are referring to is up for sale... i hope the new owner will retain the greenery... and let you live there for a long time...

• India
19 May 08
May your dream of having a garden be fulfilled! In my case, the whole compound which has more than 40 old houses is up for sale and it is likely that the builder would construct some sort of a complex here. Even if I am not going to live here, I wish they retain these lovely shade giving trees. There are so many bird also around which keep chirping all over the place. These would lose their comfortable resting place if the builder chooses to destroy the trees. Anyhow, we can only have wishful thinking. I only hope that wherever we go we are fortunate enough to have similar trees. This was just a stroke of luck. Since we would have to look for this rented apartment I always keep this in mind and let us hope for the best.