What are your favorite traditional games?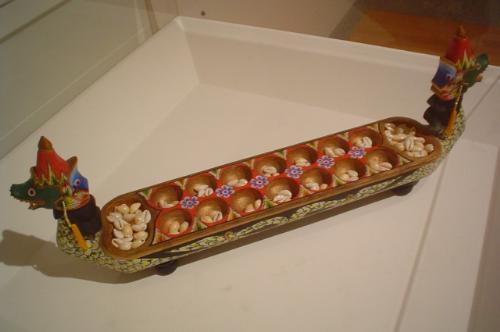 Indonesia
May 17, 2008 1:27pm CST
I love an Indonesian traditional games called "congklak" Basically the piece made by wood with 14 holes in it. 7 at one player side and 7 at other player side. Each small holes will be fill with 7 marbles each holes.Player will get turn to play this game. You can start by picking any amount of marbles and start from left to right. If you pass your own big hole in the corner, you fill in 1 marble down. When the last marbles in your hand fill in either the small holes at your side or opponent site, you can continue your games if the holes is not an empty space. If it empty space, your opponent take turn. After all small holes empty into the big one in each corner, player with the most marbles in the corner hole win this game. I bet my Grandma still save one of this.

What is your fav traditional game? Yes, you can mention hide and seek too.
3 responses

• Philippines
17 May 08
hello hcpoirot, i love this game! here in the philippines its called "SUNGKA" and it too is a traditional game. our countries probably have cultural influences way way way back in the day. we have a big block of wood which is really heavy. its owned by my father, he also loves playing this game. i havent played it in a long time but i still know how to play it. im still looking for small shells to use for the game. and because i love the game so much and the block of wood that we have is so big i decided to buy a smaller version, but like i said, im still looking for small shells to use on the game. i find marbles too big for the piece that i bought. i like the design of your "congklak" its unique. if i ever go to indonesia i think ill buy one just like that. hehehe

• United States
17 May 08
mostly I like card games, gin, rummy. But if I were to choose a board game I would say parchese. I remember playing it as a kid, and I still like it. and while I don't play well chess is fun, always more fun than checkers. So for board game I would have to say parchese, and for cards which I prefer over all toss up between rummy and canasta.

• Philippines
18 May 08
cool. we call this "sungka" in the Philippines. :)