myspace surveys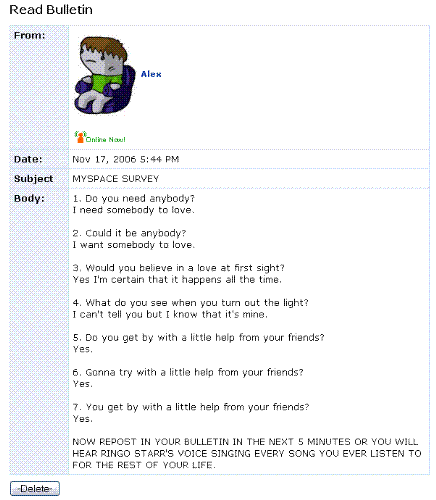 United States
May 17, 2008 10:40pm CST
Do you ever take those things about yourself/random question stuff and post them in the bulletins? If yes, How often and why? if no, Why not? do you find them annoying? I do them once in a blue moon. When i'm bored. I used to do them all the time just to pass the time and its an interesting way to get to know more about some of your friends.
10 responses

• United States
18 Jun 08
I have filled some out before and also sent some . After awhile they kinda get old. From time to time I i will look at one . Few people on my list do a few a day , and i never could.

• United States
20 May 08
I do them only when I am looking to pass some time. I have insomnia and find them helpful to occupy myself late at night

• United States
18 May 08
Sometimes I do. It's been awhile since I've done one. It's hard to keep track but if it's one I think I've done before, I won't do it. Lately I've been getting some with different questions, which is nice. Variety does keep them interesting, even if they are a bit...odd! And you're right. It's one way to learn more about your friends.

• United States
17 Jun 08
Me myself! I hardly ever check those bullentin things...its just not important to me. Most of the time its just a bunch of junk chain letters that i am not interested in to tell you the truth. The only time i will actually check it out is if one of my friends actually posted one up. For a personal reason. Or just being informative about something.

• United States
17 Jun 08
My friends and I will go back and forth with them. I only do them when I'm really bored but some of them are pretty entertaining to read, especially if it's from some of your closer buddies since you are usually in on whatever the joke/inside story is. But I don't have any friends on Myspace that I dont know personally. If i did have online only friends on there, I"m sure I'd find them boring.

• United States
30 May 08
I get so many of those . I dont mind them . sometimes i will fill them out .

• United States
30 May 08
I do take them from time to time but most of the time i just like to read the answers my friends give.

• United States
29 May 08
It all depends on how bored I am and what the quiz/surveys is about. Some of them are pretty lame and some can be funny and entertaining.

• United States
25 May 08
I have done surveys, they are fun sometimes. Lately though I don't go on myspace for anything anymore. I think it is really starting to die out, at least in my group...my friends don't usually respond or visit so I've all but deleted my account on there since there's not much activity.

• United States
18 May 08
My little group on MySpace went through a survey period where several were posted every day. To make matters worse, I started getting them in emails, too. I responded to some on MySpace and some of the emails but they got boring and I soon stopped. I agree, it was interesting to see some of the responses from other people and I was very surprised by how many people listed me as someone who would respond. I don't think I let any of them down.