anyone here who has friendster? what is the best community site for you?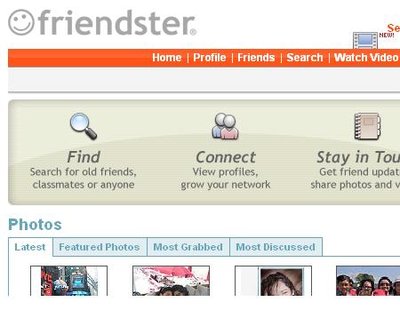 Philippines
May 18, 2008 4:44am CST
friendster is one of my favorite community sites...it has all my pictures, almost all of my friends. guys, anyone here has friendster? i know a lot of you uses other community sites...what do you think is the best community site?
5 responses

• Philippines
19 May 08
Hi there Divin! I love friendster too. I use it to keep in touch with my friends and relatives who are living far away from me. It also has my pictures, informations, reviews and my blog. I think it depends on which social networking site, where most of the people you know are members of. It may also depends upon your purpose and your location. If you're in the Philippines like me and have the same purpose, Friendster may be the best one for you too. But if you wan't to meet people from other countries, your choice maybe different too.

• Philippines
19 May 08
friendster ftw!, but i think myspace owns friendster

• Philippines
20 May 08
i guess so, my main community site is friendster...i have myspace before but i no longer use it..

• United States
19 May 08
I have a friendster account. It took me a while to be convinced to join it since I thought it was too juvenile. But when I came here to the US and started missing my friends, I decided to join. I was pleasantly surprised to find my long lost friends from grade school to college through this site. It's amazing how the world has gotten smaller and how the internet has made people much closer. I've joined several networking sites too but I think Friendster worked the best for me.

• Philippines
19 May 08
friendster is mostly used by filipinos. but i think there are other countries of asia thats starting to use it. which is great, because its becoming more well known. i have a friendster account too... i use it more often than my other social site account which is myspace since most of the people there are from the states and i dont know who else. i have a few friends there too but all of them has an account at friendster and they are mostly active there so i dont get to use my myspace and so do they. so my choice for community site would have to be friendster

• Philippines
21 May 08
I have an account, I've been a member of that since 2005. But it's only this late that I've been active there, I do enjoy searching for my friends and former classmates there too. It's still popular here, even if there are lots of community networking sites that pops out. But for me, nothing beats mylot and it's interactivity.


• Philippines
21 May 08
i do have a friendster account and i also think that it is also one of the best community site because its very common in other countries as well