Did he fall asleep?

United States
May 19, 2008 4:39pm CST
I am only just now watching Friday's episode of GH. I is in the halfway point of the show and Sonny is talking to Michael about how proud he was to be his dad, blah blah blah. But, I can hear snoring in the background. Did Michael actually fall asleep in that bed? If not, who told him that coma patients snore? Do coma patients snore? WTF? Someone wake that brat up! He's ruining a scene I could already care less about! LOL! Did anyone else hear him snoring in that scene? Or, was it just me and my dog like hearing? LOL!
4 responses

• United States
19 May 08
I will have to watch for that. I am waiting so I can watch like 4 episodes in a row so I can mabey figure out whos who easier. I got three to watch so will mabey watch them tomarrow night.


• United States
19 May 08
Thanks i was wondering what was up with coma boy. I didnt know his name. I tried to Pm you today but it doesnt seem to be working it never seems to work. Well anyways im excited and gotta say it again ITS A GIRL.

• United States
20 May 08
LOL! Yay! It's a Girl! LOL! When you try to PM me, are you making sure you hit submit after you hit the preview message button? I did a big long PM to someone once and didn't hit the submit button because it was way at the bottom of the page so I didn't even notice it. Then, when I was wondering where the message was, I realized I forgot to hit that darn submit button! LOL!

• United States
20 May 08
I do hit submit then it just doesnt do it for aome reason its weird. I also have issues with photos to might be my computer. ITS A GIRL ITS A GIRL im still excited.


• United States
20 May 08
You know, I heard that too! I at first thought of snoring, but then figured it was background noise but still - he could have fallen asleep! Certainly the best "script" reading the show has had for sometime!

• United States
21 May 08
Well now I wish I had watched it!! Honestly I fast forwarded through all the Michael bedside stories on Friday I can't take hearing another one! I was hoping it would be over on Monday but it seems like now we have to hear Carly and Sonny Carly and Jax Jax and Kate talk about it. I'm sure that won't stop for another week or two. Its really making me NUTS!!!


• United States
22 May 08
Ugh! I seriously may end my nearly my entire life relationship with GH when she comes back. As for the evil twin thing, I read an article about that about a month or 2 ago and threw up in my mouth a little bit then. And, I read another bit about it in the most recent ABC Soaps In Depth, again...I almost threw up in my mouth a little bit. To know there is a contract for her, yup...there goes the 5 sips of my latte that I have had this AM! LOL!


• Canada
22 May 08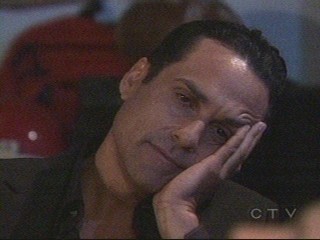 hat is too funny, Cortjo and I never noticed if Michael fell asleep or not---I was too busy watching Sonny and thinking how bored he seems to be getting with that whole storyline. Was it just me, or did Sonny look bored as all get out? I will try and find a pic...Here ya go...how bored does he look???

• United States
22 May 08
LOL! That is hilarious! I didn't actually notice that! I tend to cook dinner while I am watching GH, or sometimes I myLot or just mess around online so, I think I wasn't watching it that closely! But, wow...did he ever look bored! That is so funny! Thanks for the pic! You rock!

• Canada
22 May 08
You are welcome! I do my screencaps while the show is on, so I often think I miss audio things such as the snoring. But, if it is visual, I usually grab it!