can any of you dare to do this?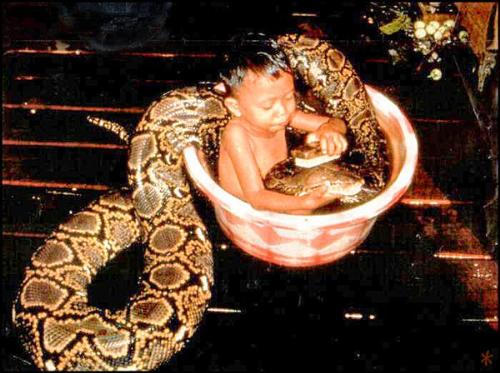 India
May 20, 2008 1:59am CST
I was amazed to see this, A child playing with an ANACONDA. It amazing. I was really shocked to see all this. I mean its really amazing. CAN ANY OF YOU DARE TO DO THIS?
3 responses

• Philippines
20 May 08
Good grief..i dont think o can do such things..im so afraid of snakes especially the big ones.


• Philippines
10 Oct 10
Nope, im afraid i cannot dare to do that since there are risk of being bitten and wounded badly. There are also risks of being suffocated by that created if it decided to wrap itself around your neck or body. That child shouldnt also be allowed to handle snakes because of these risks. That animal is definitely not for kids to cuddle with.