Oldies on Gaia

May 22, 2008 8:59am CST
I was thinking of leaving Gaia because I'm older than the age group it is aimed at but it's such a fun place, that I was so glad I found the Gaian Geezer's guild where us old folks can reminise and whap the youngsters with canes when they get out of hand. Do you feel out of place on Gaia or doesn't it bother you? I doesn't bother me as I don't mind what age anybody is. It not important at all to me.
8 responses

• United States
16 Jun 08
If Gaia remains long enough, I will be a Gaia oldie. I will be shaking my cane at people in towns (hopefully Gaia will have canes one day, for laughs), and telling all of the 'youngins' that I have been on Gaia since I was fourteen, and I was there for the Great Forum War of 2010 between the Chattebox and General Discussion forums, or something,

•
18 Jun 08
I'm sure Gaia will remain long enough for you to be an oldie

.

• United States
22 Jun 08
I sure hope so. I practically live on that site, and I hope that will never change. C:

•
24 Jun 08
I usually do but I haven't had the time lately with one thing and another.


•
26 May 08
I don't really interact with many people on gaia outside of the guilds I'm in. There are actually quite a lot of older people around on there though it does seem to be full of teenagers, who are the people it's aimed at I think. I noticed once they were showing "The Song Remains The Same" the Led Zeppelin film in the cinema there once so their must be a few older people for it to be worth showing that as most young people wouldn't even know what it was. I'll look for the gaian geezers guild it sounds like fun, and won't make me feel like the oldest person on Gaia.

•
31 May 08
I play games quite a bit so get chatting then and sometimes it is teenagers and sometimes it isn't but yes it is aimed at teenagers and some get a bit huffy but some don't. You are definitely not the oldest person on Gaia Nancy, as I'm sure there are members in their 50s, the venerable geezers they're called


•
21 Jun 08
I can't find the guild can you link to it for me? Or I'll try looking on your profile for it.

•
24 Jun 08
Here's the link for the Gaian Geezers Guild. I also posted it in a comment on your profile but thought I'd post it here as well in case any one else wants it. http://www.gaiaonline.com/guilds/index.php?guild_id=674

• Canada
22 May 08
I've been on Gaia since 2004 and I find myself feeling very out of place now. I'm only twenty but I don't even use the forums anymore because I just have nothing to say to the people younger than me. I used to be a huge Chatterbox lurker but now all anyone wants to do is "find a bf/gf" or have emo rants. So it's definitely lost it's appeal. I would love to make more friends on there that I actually talk to on a regular basis...my profile is so lonely. Haha.

•
22 May 08
You should join the geezer guild, although you might find everybody too old.

I was starting to feel out of place but it's good to know there are oldies there as well.

•
23 May 08
If you want to add me my name on Gaia is mairi1875. The mmo is being launched in the summer if you're interested and they are looking for beta testers for it at the moment.


• Canada
23 May 08
My gaia name is Safety Pin, I'll add you right now :D

•
10 Jun 08
I never used Gaia but you gave me a laugh about the Gaian Geezer's Guild, where the oldies can reminisce and whap the youngsters with canes when they get out of hand. How funny!

Some of the youngsters can be quite mature, my friend. As you said, why should it worry you? Brightest Blessings. xx

•
11 Jun 08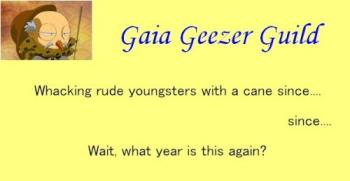 It is a great guild and it's alternative name is the old folks home.

We also have nurses to care for us over 21 oldies. Some of my friends there are teenagers but they are as mature as my fellow oldies and it is good to get different viewpoints.

• United States
10 Jun 08
January 05-er here. I was on since like 16 and I don't usually feel out of place cause you gotta teach these noobies how to play the game right instead of just BUMP BUMP BUMP BUMP That's really annoying.

•
11 Jun 08
Ah but you are still young compared to us members of the Gaian Geezers Guild.

I agree on the BUMP BUMP BUMP BUMP, it is annoying but I suppose that what happens when you have a site that gives gold for doing anything at all.

• United States
1 Jun 08
i have quite a few friends on there actually i never was big on it but i rally from time to time with my buddies we are all between the ages of 24 and 30.i think its slighty lame because yea i get alot of bf/gf requests from 13 yr olds but i just let them know that its nothing like that and for the most part ignore them which works fairly well but other than that i have no real interest in playin on there except for my friends im more into myspace and facebook and neopets thats me and my neices thing neopets

•
2 Jun 08
I've not got any requests but I usually make it pretty clear what age I am. I'm just a big kid really and love daft games and dressing up my avatar.

• United States
23 May 08
Glad to know I'm not the only one who feels that they're a bit to old on Gaia. Now, I have to go look up this Gaian Geezer's guild. I'm not really bothered by the age group, I usually don't even bother to look at someone's age. I have a couple of younger friends who like to go onto Gaia and we hang out and trade stuff. It's actually pretty fun.

•
23 May 08
I'm not bothered what age people are either. Gaia is a lot of fun and hopefully the mmo will be good too. As long as someone is fun to chat to, age really doesn't matter at all. Sometimes you do get the impression the younger ones are a bit bothered by us oldies but most of the ones I've chatted to think it's quite cool.


•
22 May 08
You are OLD? At 33? Well don't I feel like a spring chicken now! lol I have never been on Gaia so I really don't know anything about it but I do have to say that in general I don't look at a persons age before I decide whether I like them or want to spend time with them! xxx

•
22 May 08
I'm old on Gaia as most of the members are teenagers.

I think it matters more to the younger ones as pixelpixie said most of them are looking for a boy/girlfriend. I don't look at ages and usually never ask unless someone asks me. I don't see the relevance either Mummymo and I don't know the age of the majority of my real life and on-line friends.