I say Why Not!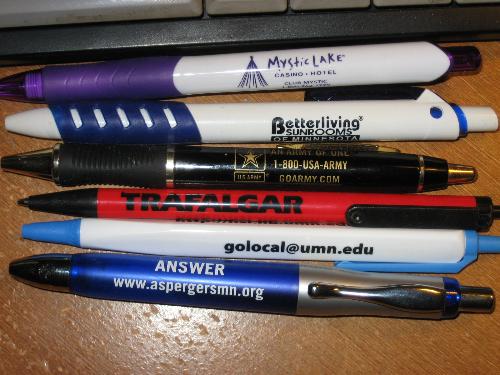 United States
May 22, 2008 12:03pm CST
I use to sell specialty advertising many years ago. This entails the sales of items such as calandars, coffee mugs, can coolers, pens, coin pouches busines cards, checkbook covers, etc with the companies logo and location info etc. Now these items sell for very cheap actually. A lot of fairs and copnventions have booths set up where they give these types of advertising things away as well. My dad and I use a lot of ink pens doing word puzzles of all sorts and go through a lot of pens. Well each time I am somewhere and they have these types of specialty advertising pens I will grab one. The companies do not mind as this is their form of advertising. I have a good rapport with my family medical clinic and each time there I grab an ink pen or teo from there and always tell the nurse or Dr. Sometimes my Dr even asks if I want one or two. Too funny. There have been times when I have caught the pharmacutical reps asking them for some type of advertising tools. In my house I must have 50 or more. I just grabbed 2 from the casino last night I go to as well. Do you grab those pens with companies names etc on them for personal use? Do you feel this is a good form of advertising as well? HAPPY POSTINGS FROM GRANDPA BOB !!~
5 responses

• United States
22 May 08
I discovered that the best pens are at the pharmacist. And I also discovered that if I fill my prescriptions late at night, when the pharmacist is bored and all alone, I can get as many as I want. They're thick pens with rubber grips on them and I love them.

• United States
22 May 08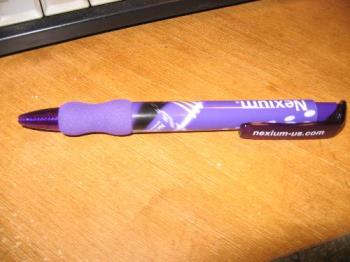 Just like the one pictured in this phot. I got this one at my Clinica pharmacy when I refilled my prescriptions today. I have a BUNCH like this one. HAPPY POSTINGS FROM GRNADPA BOB !!~

• United States
22 May 08
The only place I see them is at the bank, and I usually take one if I have to use that counter to fill out a slip.. Now I feel more sure about taking one! I imagine they must be a more or less better quality pen, now that I think about it.. if it's got their logo, etc on it!

• United States
24 May 08
Sometimes i do. Especially if I am low on pens. My husband has a traveling notary business and always gives pens to hsi customers. I think they are better than using cards because I think people tend to throw cards away, when they are cleaning their wallet or somthing.

• India
23 May 08
Just came across your username again with a huge number. Just wanted to know how long have you been with Mylot and mind to share your earnings with me?