Can I earn extra cash knitting?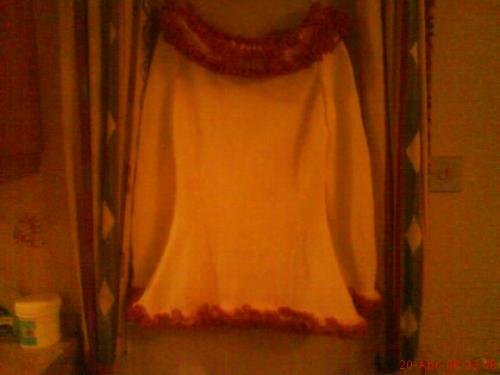 8 responses


•
27 May 08
Thanks for the tips - haven't heard of etsy.com but will check it out. Have thought about craft shows and ebay. will let you know how I get on.

• United States
30 May 08
Check out Etsy.com. The site attracts a lot of traffic from people who like to buy handmade items and last fall/winter there was some beautiful scarves/knitted items for sale on the site. I did fairly well selling handmade knitted scarves/hat sets at craft shows last year. I sell mostly handmade jewelry, but I don't think a show went by when I didn't sell at least 1 scarf and several shows I sold 3-4+...and I don't really bring all that many with me (maybe 12-15 scarves) I would check out Etsy.com first and become a free member at Ravelry.com, there will probably be some threads on Ravelry about selling your knitted creations.

•
5 Jun 08
Thank you for all your help, i'm so encouraged by this, over here in England you get some strange looks if you tell people that you knit!! They seem to think its just for oldies!! Thank you for the websites I will check them out.

• United States
27 May 08
Sure you can. First you may want to start a website and then take pictures of things you have knitted and put them on your website store. You can also sell them on ebay. I think it is a great idea. Another great place off line is craft shows. People like me who can not knit buy these things for gifts and for myself. Be ready to be busy knitting!! Good luck to you!

•
27 May 08
Thank you,your encouragement means a lot,i've never started my own website but i shall look into it. I'll let you know how I get on.

• United States
9 Jun 08
Hi, weeleybridge04. I, too, love to knit although I haven't really tried to earn any money at it. I am a slow knitter and I would end up earning 20 cents an hour or something! However, if I were going to try to earn money at it, I would knit up lots of smaller pieces like iPod socks, small bags, funky purses, scarves, and wraps. Kids and teens like these sorts of things. Then, I would take them to flea markets or outdoor craft fairs and try to sell them. Probably the easiest way to do it would be if you know a friend who already sells her crafts. Then, you could ask her if you could put a display of your knit items in her shop, or at her flea market table. Also, there is a website called etsy.com. I have heard of alot of people who sell their craft items there. Good luck, weeleybridge04. And, get knitting! PearlGrace

• Canada
29 May 08
I've knit for stores, and so has one of my friends. My mother in law is right now knitting baby things for a local store in her city. The trick is that it can take a long time to knit and you don't always get paid a very good hourly rate. I found knitting gigs for stores on craigslist. My motherinlaw actually went in a talked to the store owner.

• United States
28 May 08
Hats and scarves are rather seasonal but baby items, doll clothes, lap thorws and afghans are always good sellers whether you do it on the web or go to craft shows and flea markets.

• United States
27 May 08
It's a really wonderful idea. Lots of people love to wear hand knitted scarfs and clothing because it's unique and beautiful. If you want to sell your stuff, you can create your own little store on Etsy.com or you could sell stuff on eBay. We have craft fairs around here and an outdoor festival called Steppin' Out in the summer where people sell things that they have knitted and tie dyed.

• United States
27 May 08
I don't know if you're allowed to refer people to sites, here, but check out etsy.com. It's a site dedicated to handmade products, and there are tons of people who are making a go of starting their own business. I sell plants that I grow on there and absolutely love it. It might be an easy and inexpensive way to get started selling to people outside of your family. It's .20 to list something and you're getting an audience that's interested in buying from crafters and artisans, unlike most of the people who are looking on ebay. Try it out! :)