VENT!!!

Australia
November 2, 2006 7:53am CST
No one wants my art No one wants my bow and if I offered myself... no one would bloody want that either! I might as well sit on my butt and do nothing like the rest of the people in this town
9 responses


• Australia
3 Nov 06

and here is the recurve bow I'm trying to sell so I can get one I can actually use (this one is too heavy for me)


• United States
3 Nov 06
Sorry things are so tough right now, I am sure things will look up soon, but at least you can vent on here when ever you want, and make new friends and show us your art, Good luck and try not to be so down on your self.


• Australia
16 Nov 06
ARE YOU SHORE YOUR NOT A POMMY BECAUSE BUGGER ME BUT YOU B-T-H LIKE ONE.

• Australia
16 Nov 06
are you sure you're not a redneck because you sound like one...

• United States
15 Nov 06
What do you WANT to do, that is the question my friend. And let me say, I don't want your art, but your art is exactly what they want in New York art museums and galleries accross the nation! You do have a unique way of painting and you must go to trade show display exhibits! You have to get your foot in the door first! Don't let it slip away, because I believe you have what it takes to someday have your paintings hanging in the halls of the rich and famous! And I am not saying that to make you feel better either. I am an artist and I know what I am talking about! Get your face and paintings known, get them out in the public eye, go to art galleries, trade shows, display exhibits, museums, get out there, talk to people, your work MUST be on display! And sorry, but this will not happen in your little town, you must take your work to the big cities! Get a painting to a TV station and say you want to mail it to the presedent of the United States and make it a large painting too, that is one way to get your face and work noticed! Hear me my friend, what I am saying is truth!

• Australia
15 Nov 06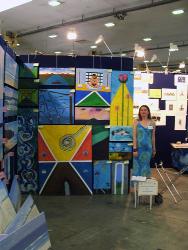 really? I've never been game to email a gallery... I have been to the brisbane art expo though.


• Australia
15 Nov 06
no, I'm not but thanks for the suggestion. I'll find them and join.

• Australia
15 Nov 06
I really really do like your art i think it looks fantastic, and you have a talent you just need to find someone who also see's that you have a talent and you will make it one day, I wish you the best of luck with your art career and i hope you do find someone who wants and loves your art as much as you do!

• United States
15 Nov 06
Leave that town and start again. I'm not saying what I want to.

• Canada
15 Nov 06
Ah, cheer up. Try to convince some restaurant owners to hang your art include details and prices. Go to all the craft fairs. I know it is not craft but it will get you exposure. Try and get your local newspaper interested in writing you up. Good luck.