Gas Stove or Electrical Stove..?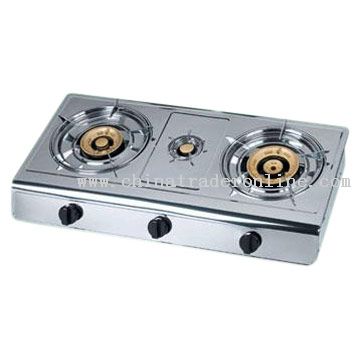 India
May 28, 2008 6:52am CST
At your home which one did you use?? The Gas Stove or Electical Stove?? We are using the Gas Stove at our home.. This is very much comfortable for use, since we are using this for the long time, the electrical stove is the latest inventions, even though we had seen some demo of that gas stove, we are not very much comfortable to use, since we are very much familier with the Gas Stove. And also, regarding the electrical Stove, We can use this, cook the food even under the Fan also, its easy to moveable from one place to another place, also they said, that daily it will consume to the maximum of 1 unit of Current. Any way, this will come to the use for the regular public will took some time, people should get more awareness about this, may be in another 5 to 10 years, people are willing to use that without any fear or negative opinion. What is your opinion about the Gas and The electrical Stove.?
5 responses

• United States
28 May 08
We use an electric stove because we do not have natural gas in our area. We are in a very rural area and it would cost too much for the gas company to run the lines out here, at least that is what I think. I prefer gas stoves over electric, though. I have almost always had a gas stove until we moved out here.

• United States
28 May 08
What you can do though is hook it up to a propane tank. Depending on what size tank you order you can run for several months before needing a delivery. It's been a while so I don't know the prices anymore but we used to be able to run for a month on a $30 tank when all we had was the stove on propane. At our other place it was the stove, oven, furnace and hot water heater and it still wasn't all that expensive.

• United States
28 May 08
Thank you for the information. We just moved here a year ago and everything was new. So, we'll have to wait until we need to replace the stove before considering propane. We have replaced our water heater with a tankless water heater that runs on propane. It was a pain in the you-know-where to drill through the wall (our walls are about 12" of solid concrete) to run the line for the propane, but it was worth it. We go through about 20 gallons of propane every 6 months so it's very inexpensive to run. It has lowered our electric bill considerably!

• United States
28 May 08
I use an electric stove, I like it better than a gas stove, because I think gas stoves are dangerous, I just don't trust using gas, and you always have to make sure the pilot light is working and all that. Besides we don't have any propane tanks or natural gas out here where we live. My husband says he won't have any kind of gas tank on our property, mainly because gas is too expensive, and he thinks the gas companies rip people off, and our electric stove doesn't use alot of electricity.

• United States
28 May 08
I don't care for electric stoves even though that's the kind most people have around here. I just like the way gas stoves cook. I've actually had a natural gas stove because we don't have that service here but we can get propane tanks delivered to hook a stove to.

• United States
28 May 08
We currently are using an electric stove, but I really, really want to get a gas stove, soon. We use a lot of big pots, and the burners on the electric stoves really aren't able to evenly heat pots because they're so small. With the gas stove, the flame moves along the bottom and along the sides of the pots, so you don't have to worry about having a hot spot right in the middle of your pot or pan. I think gas stoves will always be more popular among those who use big pots and are picky about their equipment. For the average home 'chef', an electric stove is sufficient and preferable for a lot of people. I've noticed a lot of people are scared of gas stoves because they're afraid they're going to leave the gas on and kill themselves -- most newer stoves don't allow for that. The electric stoves also have what most people think are easier to clean surfaces. Our current electric stove is one of those glass flattops and it's a b(*
@
% to clean. I miss the gas stove we had at our old house, because all I had to do was stick the burner grates in the oven and bake off the crud on them. The burners burned themselves off, and the top was just a wipe down.

• United States
28 May 08
I once had a gas stove but now i have an electrical stove . I like my electrical stove I would not trade for a gas stove again. But thats all up to the person what they like. Now my daughter has a gas stove and like it.