~Im 18 and a 16 year old Divorce still gets me down~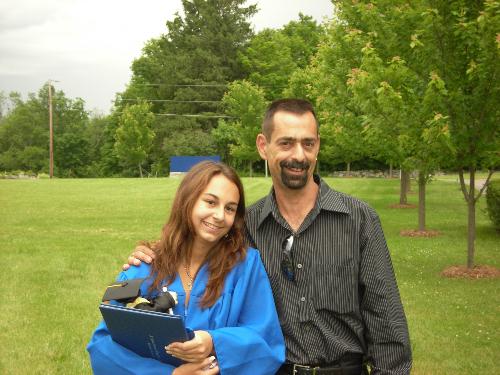 United States
May 29, 2008 9:32am CST
I am now 18 years old, when i was about 3 years old my mother and father got a divorce. for good reasons, i understand that. Im the youngest, i have one older sister and it doesnt seem to bother her as much as it bothers me. I am closer to my dad than anyone i will ever meet. My problem is not as much the divorce as, after the divorce my mom wound up dating, and later marrying my step-father. now my step-father isnt just 'another fish in the sea' he WAS my fathers best friend as a child and throughout my biological parent's marraige. and yes, i understand the accidental in love, where my step-father helped my mother take care of us after the divorce, but i have come to the conclusion that i still have not fogiven my mother for doing this to my father. i have been to many different councelors about the subject, but all they keep saying is, i have post traumatic stress synrome, OCD, Depression, and im Bi-polar. now this is all fine, but i feel liek i have nobody to talk to about it. i dont want to talk to counselors becasue i feel its just money for them. i cant talk to my mom becasue shell argue with me, and i cant even carry a conversation with my step-father without getting into a screaming match (both of us.. not just me) and i wouldnt say anything to my dad becasue i dont want to bring it up. Me and my step-father have NEVER gotten along. EVER. We've always had problems, every time somthing occurs my moms tells me that we dont get along becasue were pretty much the same person. and thats all well and great, but i hate the fact that i cant forgive my mom or my step dad for what they did to my father. and i think weve all taken it a little too far .
5 responses

• India
2 Jun 08
i can fully understand your situation. its sad what you have undergov=ne. you are very close to your dad. now it was not your fault that they separated and you sufferred. i know many children are affected emotionally when their parents divorce. what can you do now? is there any way you can keep contact with your dad?

• United States
3 Jun 08
im still in contact with my dad, i visit him about 3-4 times a year. im actually at his house right now visiting for the week, its alot of, hes never around and because im so much closer with him than i am with my mother, it fweels like not enough. im afraid that something might happen while im not here.something being anything, bad or good i cant be here for him.

• China
2 Jun 08
Hi Gmdem, young girl. Don't bother youself on such kind of stuff. That's the matter between your mother and your fathers. They did all that for reasons you might not know well. The most important thing is that you mother is happy now and your father is or is going to make himself happy. You keep fixing on this issue which makes you and your mother and fathers unhappy. I am sure this isn't what you want and what you like. So, why not try to forgive your mother and step-father? Or if you can't do that, just don't think of it at all. You are 18 now. You have a lot of other things to do. You needn't have to talk a lot with your step-father, just try to give him a smile or two or a simple "Hello" and then go to do your things. Just try to accept him, OK? And devote yourself to others things like enjoying life, going out dating with people you love, being true to the people you are dating, etc. Best wishes to you!

• Australia
29 May 08
you poor thing. i am sorry that this bothers you all this time later. this is exactly what i am terrified of! i have just left the father of my kids (6months ago) and my girls are aged 2 and 3. i gave him more chances than i can count, but he was abusive and my girls were starting to notice. i didnt want them growing up in that situation. see im worried that when they grow up i wont want to bad mouth their dad (thats not healthy) - but they will maybe never know why i really left him. i know its for good reasons, but they may never know the REAL story. i am so worried they will resent me, just as you do your mum. why did your parents divorce? did one of them do something wrong? its sad but so many relationships fail in this day in age. when i was growing up all i ever wanted was the fairytale ending, and i am still trying to get over the fact that i wont get to have that. my ex still trys to get me back but i know that he will hurt me again down the track and there is nothing worse than wanting to escape your life each day. actually in a different type of way you probably do know exactly how that feels. you are still young, trust me, when you grow up and move out, thats when the pressure of life really sets in. i am only 24 and as i said i have 2 young girls (whom i love dearly) and i am now a single mum after being in a 4 year abusive relationship. sorry for draging this out, like you, this is why i love mylot, we are like a little couselling community - but we can all still have a laugh, i like that you liked my boogie question LOL so anyway im here if you need to talk, we all are, just get on here and vent when you need to. i know it must be rough having your parents split. it saddens me that knowone is taking the time to put your needs before theres. i will always put my daughters before me and men! men are so far down my list for now, until i meet prince charming of course (yeah right!). but seriously, they need to listen to you. you should sit your mum down and tell her your feelings about the situation. that you need to understand and most of all you need closure so you can get on with your life. dont run off with your boyfriend just to escape, as im sure this thought has crossed your mind, it will only make things more complicated and it will put more pressure on you than you need. trust me. fix yourself first. then you can get on with life. theres no guarantee your parents will make it all better. but you need to rise above it, and that will make you a stronger person. i wish you the best of luck :-)

• United States
29 May 08
I am so sorry this has happend to you and you have to feel the way that you do in this whole situation. Don't get to hard on yourself about this for one it was your parents discision to do this and you just got caught in the middle of it and are angry now for you feel like noone will hear what you have to say if you try they come up w/ like you said and the councelors said that ytou have ( ocd or bi polar issues ). I don't believe that for the world you are trying to express yourself and noone is listening to you they shut you out or get mad at you for bringing any of it up when they just want to leave it in the past and forget about it and you want to talk about it which is normal. You say you and your bilogical father are close well you can still be that way for you are of legal age to decide if you want to con't liveing w/ your mom or move closer to your dad that is if you are finished w/ high school and all. As for your step father I know he will never take the place of your real father but he is there because of your mom and wants to be happy to take care of you all and play a father romodel where it dosn't make you happy for you two don't get along. I can understand this for my son who is 9 dosn't like or care to much for his step mother and he tells me and her this all the time. I just told him to deal w/ it and try to get along w/ her for when he turns of age he can be w/ me if he wants. I know he is angry w/ me still for leaving his father and has still a hard time forgiveing me as well for doing this. The doctors and councelors have diagnosed him w/ the same things you have he is angry, can get violent, has mixed emotions cause he fells noone cares or will listen to him. The same w/ you and how you feel about your mom. It's a hard thing to deal w/ yes and it's normal. Try talking to your real dad explain to him what is going on how you feel and see if you can move closer to him or anything that he might be able to help you with if this is what you wish to do. I do wish you the best of luck and try to remain calm for I know how upsetting this is. Take care.

• United States
29 May 08
Thank you soo much for your response. but theres other complications. as much as i love my dad and i would love to live with him. i live in CT, and i've tried it. my father is a great man, but becasue he and my mother got divorced so early, he doesnt know how to care for a teenager. last summer me and my mother got into a quite heated argument and wound up striking eachother. ive never felt worse, but i got sent to live with my dad. but when i did, i never felt more distant from him.. living in his own house. while i was living in NY with my father, i became really close to my now boyfriend of 7 mnths. and as much as i would love to move with my dad, im not leaving my boy here alone. hes the only relationship ive had with another person, family or not that im actually consistantly happy with besides my father.

• United States
29 May 08
Divorce is difficult no matter what age. My mother just divorced my father. I am 38. Opposite of you I was NEVER close to my father. Have you discussed it with your dad? Does he have difficulties with the situation? He may have some ideas how to better deal with things. It has been some time for him too. He may have a fresh perspective.

• United States
29 May 08
about 3 years ago me and my dad went to a carnival and we went on a ride on a ferris wheel, i braught up the subject and i could tell he was still upset he said hes not happy with the situation and he doesnt understand why my step-father couldnt pick another woman, he said "their plenty other women that were not his" and i got really upset, im afraid to bring up bad blood so i dont really talk about it with anyone. i have a problem talking about it with counselors becasue i can never find one that i can trust or seems like they care about my life at all other that the money im putting out.