Well, it came

United States
May 29, 2008 5:44pm CST
I'm addicted to coffee. I get whole beans, and the coffee maker grinds them and turns them into wonderful cups of coffee. Last Friday, a piece broke off my coffee maker and got stuck somewhere within its mechanism. It didn't rattle and wouldn't come out. I ordered a new one online. It came today. It's very different. Now I have to read the book and figure out how it works. Do you drink coffee? Do you grind your own beans? What kind do you like best? What kind of coffee maker do you have?
4 responses

• United States
3 Jun 08
I drink coffee mcat but I don;t drink that much.I love more to drink like juices or pop ,but I try not get addicted with any pop because I know it's not good for our health.

• United States
31 May 08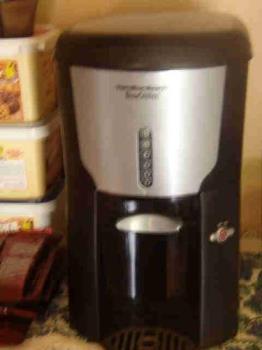 I drink coffee but not all the time. I have a Hamilton Beach coffee maker as the attached pic shows. I drink whatever I get for free but decafe if I buy my own. No grinder here thou.

•
30 May 08
I love coffe and I have a coffee machine but it is too much hassle when I am the only one who really drinks it so I either just use ready ground in my percolator or instant! I do love the smell and taste of fresh ground beans though! Glad you have a new one and I am sure that you will work it out in no time! xxx

• United States
6 Sep 08
I don't drink coffee very much. I do really love cappacino and drink it every now and then. I also like cold coffee that they sell in the store. It also has a really good taste to it. I was surprised the first time I tried it that it tasted so good. There is a coffee maker in the house which is a Mr. Coffee brand. The only reason we have a coffee maker in the house is because my husband drinks coffee all the time.

• United States
6 Sep 08
I love the new coffee maker. It makes great coffee, but it is very very noisy when it grinds the beans. It seems to go longer than the old one. I always say "big noise" to my cats before I start it. They don't bat an eye; must be used to their crazy catmom.