Betty Boop on Youtube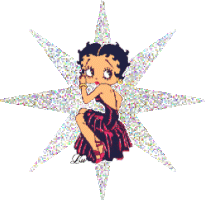 Australia
May 31, 2008 7:00pm CST
Seeing as betty Boop seems to be a very popular lady, I checked her out on Youtube not really expecting to find anything and to my surprise I found heeps of clips on her so for those who grew up with her you can now let your own little ones watch Betty Boop, there are heeps of clips on Youtube of her .. It really makes me wonder where people get the clips from in the first place...have fun with Betty http://www.youtube.com/watch?v=l4Bg6I6N-Ng&feature=related
4 responses

• United States
1 Jun 08
I went looking for her a bit ago on youtube and was surprised myself to see how many clips they had! I really enjoyed watching the early episodes of her when she still had the poodle ears. I guess at first she was intended to be a dog of some sort... But she is still so darn cute!

• Australia
1 Jun 08
yeh I wouldn't mind looking like her, its amazing isn't where people get all the clips from on Youtube especially since you are supposed to have the copyright of them...makes you wonder...

• Indonesia
1 Jun 08
I just watch the video. LOl i love to watch the moves of that waiter dancing. With i have a restourant with an employee like that! lol Thank you for sharing this video lilaclady

Hahaha! look the chicken is dancing!

• United States
13 Jul 08
Betty Boop is one of my favorites. My music player on my Mylot profile page is Betty Boop. Have you seen it? She is amazing.

• United States
3 Jun 08
Thanks for the link. I did grow up with Betty Boop, watching her every week. I just may visit those clips and take a trip down memory lane with Betty Boop.