What to put over your head when on the rob???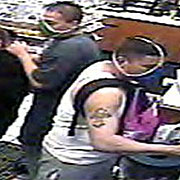 June 2, 2008 3:45pm CST
Ok so it was stockings or a balaclavas for most criminals, or maybe fancy dress masks but for some its.....thongs????? How ridiculous!! Like thats going to prevent people from recognising you!!! Police are hunting for these two robbers who failed to understand the meaning of hiding your identity. The pair were caught on camera sporting a very unusual disguise. CCTV cameras caught them at a Colorado convenience store wearing thongs over their faces. I mean things do leave little to the imagination even when worn appropriately!! (Not the most sensible form of disguise either!!) One wore a green thong while the other opted for blue - but the pair's nose, mouth and chin were barely covered. The rest of their face was clearly visible, police in Arvada say. One also failed to cover up a very distinctive tattoo on his arm so this will hopefully help the police identiy them. Stolen cigarettes and cash they took from the on-duty worker were also stashed away in his pink backpack. The men, believed to be in their 20s, were not armed.
3 responses


• United States
5 Jun 08
I guess their girlfiends don't wear pantyhose...thongs and stockings aren't really a sensible combination LOL. Maybe they thought the workers would be too distracted by wondering why the men had thongs on their heads that they'd forget to pay attention to their faces...but cameras don't care about fashion choices so hopefully they'll be caught...I'm sure the other men in prison will be amused with the thong robbers!

•
3 Jun 08
Lol are all criminals idiots? According the the news it seems pretty possible.