Do you buy fresh live lobster to cook at home?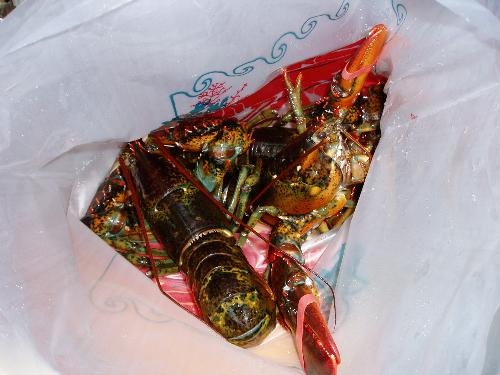 United States
June 2, 2008 9:32pm CST
Hi there! I was at the market today and bought fresh and live lobsters at $6.99 a pound. A good size lobster is usually a pound and a half, so I bought some and cook them at home for dinner. There are different ways of cooking lobster but I usually cook mine by dunking it in a boiling water. One time I also tried cooking it using a steamer canister that is specifically just for lobster. Between these two methods, I prefer the boiling way because the lobster ends up juicier than when it is steamed. I eat my lobster with butter and garlic for dipping. I also like it with white rice and corn on the cob. How about you? Do you buy live lobsters? How much does a pound cost in your area? How do you cook it? Would love to hear from you.
5 responses

• United States
3 Jun 08
To be honest, I've never had lobster so I couldn't tell you word one about it. But, I've heard it's really delicious so perhaps one of these lucky days I'll be able to try it out. Wait, I've got a pound of shrimp in my freezer, I'll console myself with them for now. *lol*

• United States
10 Jun 08
Hi. Hope you'll be able to try it someday. There might be restaurants near your area who offers this on the menu. Got to try it once at least and if you like seafood, I think you'll gonna like it. Shrimps ain't bad as alternative. I love it too! Enjoy!

• China
3 Jun 08
I like eating lobster,but i don't know how to cook it delicious.So i usually go to restaurant to eat the delicious lobster.

• United States
10 Jun 08
Eating at a restaurant is no mess for sure. Everything is taken care of...from cooking to cleaning. :) Enjoy!


• United States
10 Jun 08
That's fine if you don't like seafood. Though it has been said that eating more seafood is one way to improve our diets and our health in general. Eating in moderation in all kind of food is also the other way to a healty you. Enjoy!


• United States
10 Jun 08
I hope your dad will buy you one someday. Thanks for the response. Enjoy!

• China
3 Jun 08
Usually , i buy fresh live lobster to cook myself ,and i think it is so expensive now , we need about $3.12 in chinese !

• United States
10 Jun 08
Thanks for your response. Food prices are going up everyday and lobster price is sure to go up as well.