Has anyone have watched LOVERS?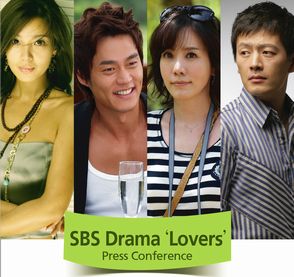 Philippines
June 3, 2008 7:44am CST
Hey, i like Lovers so much.. it made me cry and laugh.. I like Lee Seo Jin, he is not that pretty face, but, his looks are great and there's something about him that will hooked you up.. hehehe.. His dimples are one of his face factor and especially his eyes.. I find him a great actor.. His acting is very outstanding. Even just looking by his eyes you can feel the character he is portraying and you can feel his feelings.. Kim Jung Eun is also great. She is pretty. Heard that they are together.. Fell in love with each other through the drama they both starred "Lovers":) They are a cute couple huh? Watch LOVERS.. you will not regret watching it.:)
2 responses

• Australia
29 Oct 10
I have a copy of this series but honestly I didn't like it,way too draggy... Loved the part where the hero whatever his name was is injured and he is nursed by the heroine in her house but the rest of the movie was so boring!

• Philippines
2 Jul 08
Honestly, I don't like Lovers... I'm korean & japanese addict but I don't know why I didn't like this show. I only seen 5 episodes when you watch it in ABS-CBN. At first, I told myself...wow this drama looks really funny but I ate my words hahaha.. I don't like the male actor here. But I like Kim Jung Eun since I like her ever since in Lovers in Paris.