What you think of " NFS Pro-Street "?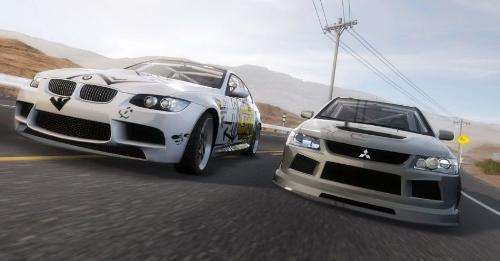 India
June 3, 2008 1:42pm CST
I was dying to play it when I heard of its releasing. I'd installed, got impressed watching its videos and graphics. After playing couple of races I had to uninstall it. 'Cos of its poor gameplay and a heavy realistic physics engine. As the previous titles "NFSMW", "Carbon" gave me an open world to move around, this game confined me in race tracks. Since I did not finish the game, I don't know whether it has a pursuit section. Specially, NFSMW excited me when I was being chased by the cops. It's so annoying every time a player has to repair his damaged car before entering a race in this game. But I found out the "Drag" is best part among all the previous titles. And, the graphics of this game is the best EA has ever provided in the NFS Series.
6 responses

• United States
5 Jun 08
Honestly the worst NFS I have ever played.When U talking about NFS the its all about street racing,this looks to me some kind of GT car game.No cops but still NFS. Most important thin is its awful gameplay. This game is definitely a red hot candidate for worst game of the year 2008.

• Denmark
30 Jul 08
Personaly i think prostreet is good but i dont think its a sure bet that if you liked the others you will like this one its just too different but i really love it nothing like taking your Pagani Zonda and just zoom through the nevada desert in a speed challenge :P

• India
9 Jun 08
I have played it and it is by far the WORST NFS game made so far. There is no roaming around, the visual customizations are very limited now. (Only painting wheels, tinting windows, buying new wheels and painting your car.) The "technical" upgrades, although they offer many different "brands" they all do the same thing! Yes. It has the most beautiful graphics I have seen for a racing game. (I will ignore Gran Turismo 5 for now. :P). There is no real online fuctionality for it or even a co-op mode. This is a definite Rent for all NFS fans but, don't buy it. It is a waste of $60. those were thoughts from my side

• India
6 Jun 08
Worst NSF of all time, they've f-ked up the gameplay, screenplay, story mode, everything. Its not the contender for the Worst Game of the Year 2008 frndz, Its already won it hands down. Everything that NFS is famous for and everything that the gamers love about it, has been taken out of the game. Maybe that cud have been good if the game wud have gone a level up but this looks to be the first game series thats downgrading to the lowest level possible. I've got serious doubts now if they ever will be able to create the magic of Underground series or Most Wanted, considering the pathetic game they've produced now.

• United States
8 Jun 08
Well sorry man i still have not go the change to pay the game poor =[ i dont have a ps3 or a xbox 360 to play the game. Also all my friends don't like to play racing games they like RPG and fighting games so i dont even know anybody that has the game =[. I have seen videos of the games and it looks pretty good. Hopefuly i get to play the games soon before they come out with a new one called Need For Speed Drift hehe ^_^

• Greenland
13 Jun 08
Well in my opinion most wanted was the best in the series carbon was a little warse and pro street is the worst ever :S