Whoa! I can't believe she can do that!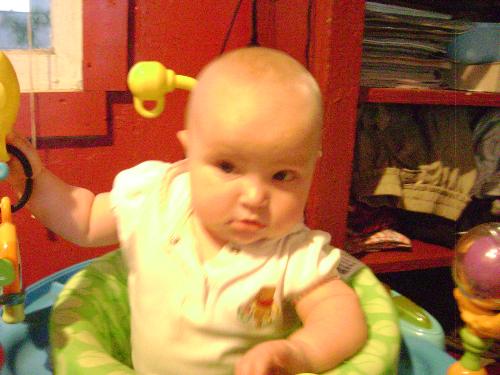 United States
June 3, 2008 5:19pm CST
My daughter has what is called APD. It is Afferent Pupillary Defect and it is a condition in which her pupils do not dilate and constrict like they should and it make it hard for her to see. She has never been able to see much, but she learned how to hold her bottle by herself at 4 and 1/2 months old. She plays with her toys by herself, rolls all over the place and she has learned to mimic us when we make different sounds. Her pediatrician said that her condition might limit her learning right now because she can't see much, but she seems as though she is learning everything she needs to. Do any of you have children like that? Or can any of you share knowledge you have of this condition?
3 responses

• United States
10 Jun 08
First off, How Cute ! She is adorable! I just read an article that APD involves the nerve pathways not properly sending messages to the brain. This could mean they did not form completely or properly, was she a premature baby? If you notice signs of nearsightedness you might try excersising her eyes to aid her in focus. What was she looking at when you noticed she saw it upclose? Try holding it infront of her and moving it around her peripheral and center vision allowing her to focus on the object before moving it once more. Seeing as how she is still quite young and developing assisting her natural impulses could strengthen her ability to see better. I am by no means qualified for medical advice, I'm a student of Physics. I did assist my Aunt with rehabilitation of Temp.-Perm. visualy impaired individuals. Normaly she used a light for eye focus but that would strain your daughters eyes to much. The idea is that by allowing the patient to focus on the object, they are training thier nerves and muscles,slowly improving functionality. Has your doctor suggested this? She's gorgeous, I wish you three the best.

• United States
10 Jun 08
Thank you very much for the compliment. We have been very blessed with such a beautiful daughter. You are absolutely correct about the nerve pathways. No she was not a premature baby. She was fully developed. Shw was full-term at 8 pounds/4.2oz and 21 and 1/2 in. About the nearsightedness; she cannot move her eye muscles voluntarily. Her optometrist said that she was nearsighted. I have been hoping that her eye sight would get better with time. Her optometrist said that she may need surgery to correct her muscles if glasses do not work. Thank you again for the advice and yes he has suggested that and so much more.

• United States
8 Jun 08
First of all I wanna say that your daughter is very adorable.About APD I don't really know about that,but that's amazing that you daughter can hold the bottle and play toys by herself and rolls over the place and that's good!Well hopefully she still get a chance to see someday.

• United States
8 Jun 08
I wanna say thank you. :) APD is Afferent Pupillary Defect. Her pupils do not dilate and constrict the way that they should. She has vision..she can see. As a matter of fact, we found out that she was near-sighted like us. Her APD is casued by tumors in the eye and it also makes it to where she cannot move her eyes on her own. Her eyes move wherever they want to, but we are going to the ophthamologist on the 16th of this month to get her glasses to straighten that out..hopefully. Thanks for the comment.

• United States
5 Jun 08
Awesome! She's gorgeous.

It's amazing how versatile and how well children adapt to different conditions and how they overcome their issues. It sounds like your girl is pretty darned smart!

• United States
5 Jun 08
Thank you. It amazes us everyday how my husband and I managed to produce such a beautiful baby. I think she was implanted in me in my sleep or something. J/K Yes, they seem to adapt very well. Too well i'm afraid. Just yesterday my sister-in-law and I were paid $300 to clean this man's house so he could get his children back from CPS. The children's mother never cleaned up anyhing and it was so horrible that they ahd to take the kids. She won't be able to see the children anymore, but her husband is going to get them back since he can afford to take care of them. It's a sad situation.