"Look at me, take a picture, I am beautiful" Says this little show off!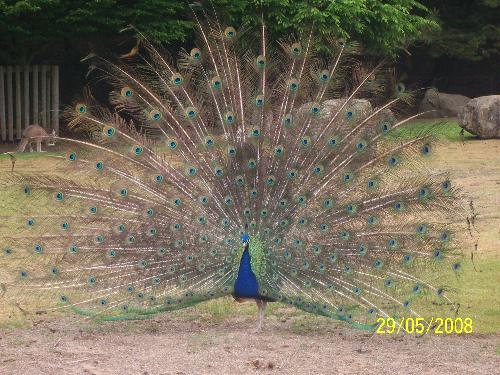 June 4, 2008 8:01am CST
This is what he seems to be saying to me as I tried to snap some pictures of a kangaroo (actually I do not think it was a kangaroo, but I cannot for the life of me remember the name of it). This handsome peacock flew down when I had the camera out and proceeded to put on a beautiful display of himself for about 5 minutes! I was really pleased with the way this photo came out and really pleased that I got to see him in all his glory, I have never really seen a peacock do this so close up. Have you ever had an animal try and get in a photo when you have been taking a picture of something else? Just wanted to share a picture of a beautiful creature with you all, have a lovely day!
10 responses

• United States
4 Jun 08
wow! I have not seen any of these in real gemini! Thanks for sharing! I have not experienced taking pictures of something else and beautiful creature will just come in and be part of it..LOL!

•
4 Jun 08
This peacock followed us around the zoo for quite a while, he was shouting his head off when I got the camera out and next minute he was strutting his stuff. I was the only one there with my family and I quickly took some photos, within minutes loads of people came over to get some shots. He did not think much of them as not long after he folded up and strutted off!

• United States
4 Jun 08
really? wow! You are lucky to see it longer than the rest of the people there...LOL I wish I will be able to see one soon, exposing the wonderful part in him..I love to watch the picture really!

• United States
4 Jul 08
Thanks for the BR gemini, happy posting!

• United States
4 Jun 08
Was the kangaroo actually a wallabee? The zoo here in our city has peacocks but they are in an enclosed habitat. I do remember they had their feathers stretched out once,and that was a sight to see. Another nearby zoo has phesants(?) that just sort of roam free. Although they aren't pretty, I think it's funny that they are roaming around and getting into other habitats.

•
4 Jun 08
Thank you, I think that it was one of those! Pheasants do roam free, some of them can be quite pretty in colour.

• United States
4 Jun 08
They are not common around here, which is why it is so funny to me. That is the only place I've ever seen a pheasant.


•
4 Jun 08
There was loads there, all different kinds of animals, they had elephants and lions, a tiger, camels, otters, monkeys, creepy crawlies all different kinds of birds. A prehistoric walk for the kids, areas where the animals roamed free, Llamas, pelicans, flamingos, Red bears. Play areas for the kids and icecreams it was a good day out.


•
5 Jun 08
He looks fantastic and just wanted to show off. Though if you look closely on the left hand side their is a kangaroo or do you mean a wallaby as you werent sure if they were kangaroos!!?? Maybe no one had taken any pictures of him and he felt left out so displayed himself proudly!!!

•
5 Jun 08

It is a wallaby, I could not remember what its name was, they were what I was aiming for, but they all scuttled off when the peacock came zooming in!

•
5 Jun 08
Great shot gemini - aren't peacocks gorgeous - though quite why it should be the male that has the beautiful feathers I don't get! There is a picture of me at my sisters when I was about 5 about 2 feet from a peacock in similar stance although I was terrified! lol Was it a wallaby you were trying to get a photo of? The peacock is much prettier! xxx

•
5 Jun 08
The males get the looks to woo the ladies. I was aiming for the wallabys, funny, that word just does not sound right for some reason. He is beautiful though.


• Canada
12 Jun 08
I love kangaroos, especially since you don't see any around these parts, kangas, and pandas, and kuaula bears sorry for the spelling, they are just all gorgeous animals.

• United States
5 Jun 08
Wow what a beautiful picture - he sure loves cameras doesn't he LOL

• United States
4 Jun 08
LOL! He is pretty! And, that looks like a Kangaroo to me in the background. But, if it isn't, is a wallabee (sp) the same as a kangaroo because that is the only name of another animal that I can think of that you might be thinking of. But, I think it is a kangaroo. Don't you love it when animals seem to instinctively show off for the camera? My cats and my dog tend to do that too. Although, my dog gets a little camera shy. He seems to get embarrassed when the hubby and I catch him in the act of snuggling with one of my cats. He seems to know that it isn't entirely normal for cats and dogs to cuddle with one another so, he gets all shy and looks like he is in trouble or something! LOL! As for your question, no. I don't think that I have ever had another animal get in the way of a picture.