I love my cats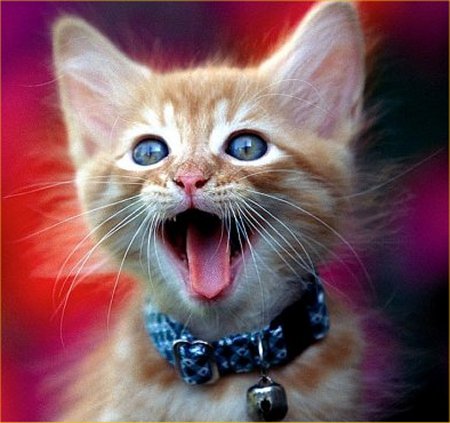 United States
3 responses

• United States
5 Jun 08
My family has eight cats. Yeah, alot. They each have their own personalities and they're wonderful. I love looking at pictures of cats online. I do it all the time. Especially kittens, they are just adorable.

• United States
5 Jun 08
Right now my mom has 6. She did have 12 but she gave 6 to very nice homes because she just could afford them. The "mom" cat got pregnant right after before my mom had a chance to fix her. I think it's amazing how cats have their own personalities just like humans.

Thank you for your response.

• India
5 Jun 08
Well, I too am nuts about cats. And I have two! Right now, they are patiently sitting by the fridge and waiting for me to get up and give them their mid-morning treat--a huge sardine!! Lol, cats are so cute and easier to relate to than dogs. Dogs are such pests. What a nuisance my dog is! I am wondering whether to send her away or not. Now cats are not like that...am I ranting here.. sure sounds like it... that dog of mine has driven me nuts.. why can't she be as well-behaved as my cats???????? Cheers and happy mylotting

• United States
5 Jun 08


I enjoyed your post! I'm not a fan of dogs. I do like them, if their not mine. Cats are so self sufficient. I wish it was mid morning here! It's is 11:54PM here! Just about time for bed shortly to get up for the kids. Thats why I love my kittie kitties.

They are so wonderful. Thank you for your response.


• United States
5 Jun 08
Awww. I'm glad you have saved so many!!

I wish I could but I'm living back with my mom and it's a full house with 3 adults 3 children, 6 cats. But I hope those presious babies find great homes. Thank you for your response.