Sometimes being a parent is so hard.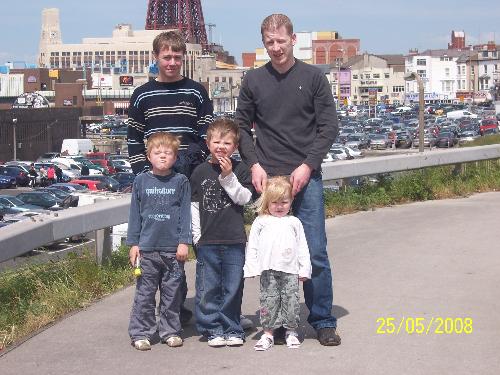 June 5, 2008 8:55am CST
This morning was a morning from hell, I had overslept and had about 15 minutes to get 3 children ready for school. I had gone upstairs to tidy myself up when I heard my 6 year old son crying and my 16 year old son shouting at him. My 6 year old son come up to me and he had pen ink all over his school jumper and he was sobbing. I asked him how come he had pen ink all over him and he said that his 16 year old brother had thrown a leaking pen at him. I was furious I did not have time for all this, I went downstairs and asked my son why he had done it, he said that he had not and that my 6 year old had done it and was blaming him. I asked my 6 year old to tell me the truth and tell me who had done it, he was crying his heart out and said it was the 16 year old. My 16 year old exploded saying that he was lying and just trying to get him into trouble. So I asked my other son who is 7 years old, who had done it and he looked straight at the 16 year old and shrugged his shoulders. I told my 7 year old that he would not be in trouble, I just wanted to know who had done it and he said it was the 16 year old. At this point my 16 year old went mad, saying they were lying and were plotting against him, he threatened my 7 year old and he was just going mad. I said OK then if you are not lying swear on my life thinking that if he was lying then he would not do it, but he did, he swore on my life that he had not done it. I was a bit torn then because I was then not sure who was telling the truth, I did not have time to pursue it further but got my son a clean jumper and got them ready to go. Next thing I know my 16 year old turns around and admits it was him. I just got so upset I could not believe that he had caused all that trouble and upset, had sworn on my life and I had said some horrible things to them all because of it. He did apologize and offer to replace the jumper, I said to him why on earth did you feel the need to lie about something so trivial, he said that he thought he would be in trouble. I said but you are nearly 17, I would have moaned at you and told you that you would have to replace it but that would have been it, you are a young man now the last time you were really told off or in trouble was when you were 8. I said you swore on my life how do you think that makes me feel, what does it say about what you think of me? he said that he did not believe in all that stuff, I said fair enough but you know I do, you know that me saying that is important, a way I find out the truth and you should not do that. You are tempting fate. This story is just one of many, and all of this lying and the way he is just gets me down, he makes me unhappy. He has no need to be this way, he just lies all the time and it is senseless lies. Yet he has such a lovely side to him, very rare I see it but when I do he is so different all I see is this horrible side. The side that makes me question why I wanted to be a parent in the first place. Most of you on here will have children, do you have a 16 year old who lies constantly? Does your child tell senseless lies when there is no need? What is the worst lie they have ever told you? Does your teen make you feel unhappy? or are you a lucky one whose teens are brilliant? I would love to hear of good and bad teens!
10 responses

• United States
5 Jun 08
as i sad before to you on this.. dont envy you. youre not the only one frustrate with a child who you cannot understand why they are so mean and cruel for no reason, and then compound it with lies constantly until you cant even beleive a single thing that comes out of their mouths. my oldest.. as i mentioned before, is a little over 19.. and has done the most despicable things you cannot even begin to imagine. and it wasnt the way she was raised, or taught, or saw by any example in the home she grew up in. ive instilled the same values of honor and honesty.. pride in self and respect for others.. she got the same teachings, same stories, same lullabyes and squishes, love and adoration. where the little one absorbs and implements everything, and even teaches me a thing or two on more than one occaision.. the older has rejected everything at every turn. they are like night and day.. literally. the little one cant lie to save herself.. it physically hurts her to do so. ive watched her when shes even THOUGHT about lying, and you can see her insides visibly crumble at the mere consideration.. the older does it with ease.. and so much so that if she were to tell me it was nice out, id have to go check to see for myself to make sure. it isnt just to me that she does it.. but to everyone.. she has no friends because shes used them all up and threw them away like they were garbage when they didnt have anything else she wanted from them.. countless runs to the state screaming abuse and lying about me because i wouldnt allow her to do something she hadnt earned the right to do.. ive had her employers and coworkers calling me cussing me out because of lies shed tell them about me.. while i sat on the other side of the phone, clueless. shes been physically abusive to me and her baby sister.. and things got so bad that the day she turned 18, i was forced to remove her from the home. i know exactly the frustrations youre feeling in this.. and im hoping that you arent experiencing what i did with mine.


•
5 Jun 08
I have read what you just put, twice in fact because some of what you put there is just reminding me so much of my boy. He has no friends, because he wears them out with the aggravating and the lies and the way he treats them. I have seen the way he treats them. My son lies as naturally as telling the truth is to others. He also nearly had me hung, drawn and quartered as a youngster due to telling other adults that I did not feed him and I ended up with the social workers on my back. I am not with his father, and I have not seen his father since he was a couple of weeks old but the scary thing is that when I look at him I see his father. Its like he has mine and his father in him and they both battle against each other, good and bad. I only hope my side of him wins, don't get me wrong I was a little cowbag when I was his age and did bad things but not to the extent he is. Thanks for your support, it is much appreciated, I do not have many I can talk to objectively about it.

• United States
5 Jun 08
oh i never dared do anything of the kind as a kid.. i also got out of my parents house at the age of 16 LOL i wanted to give my kids better.. BE better.. and did. same as you, i left my oldests sperm donor when she was a few months old. she was never around him to learn the behavior by example or otherwise. also same as you i got the investigations for sposedly "starving" her.. had my pantry inspected, and was ordered to write out a menu to show them i knew wtf i was doing as far as feedng my kids. truth of it was i didnt want her having too many sweets.. so i was making her a healthy lunch to bring to school.. which she promptly threw away when she got there and told people i refused to give her any food.. so her friends would feel sorry for her, and give her their cakes and chips for lunch. incident after incident of this kind of thing too many to count. and i know about not having anyone to even discuss it with.. everyone automatically blames the "mother" sometimes it is justified.. sometimes it isnt. sometimes it is just simply a willful child, that no one wants to "blame" because theyre "cute", so they get a pat on the head and told theyre just fine, and their parents are just unreasonable and "mean". this trend started with her at the age of 6.. when she stole from me and i grounde her.. and she stompe her foot saying if i punished her, she run away. i packed her things.. showed her the door, and told her to go.. but that if she DID, id be calling the police before she hit the end of the riveway and have her put in juvy for running away. unsatisifie that she couldnt get me to do what she wante.. she ran to the school and tol them id beaten her.. and there began a very long battle to teach her right from wrong, when all she had to do to get me "in trouble" when she didnt like something, was to scream abuse. the only thing she accomplished was pretty much destroying our relationship.. her education (she was removed from public school because she flunked out so many times.. she was too old for public highschool, and they asked her to leave) and her future. and she still hasnt learned ..;sigh;.. heres hoping yer boy gains some common sense into how he is behaving.. and learn before it gets to he point you have to sever ties to preserve yer families safety and yer own health and sanity ..;crosses fingers;..

•
5 Jun 08
Everything you say about your daughter rings a few similar bells to what my son has done over the years, except that he seems to have been a milder version. I think that good outweighs the bad with him, but I think that he battles with himself over it a lot. I have already warned him that I will throw him out if I need too, I will not be unhappy because of him, and I will not have my other children unhappy.


• United Kingdom
13 Jun 08
I can not say that mine made me unhappy in their teens as they where just normal Teenagers really my Son was not to bad It sounds to me that he is actually jealous of the other 2 Boys you know I think you need to have a good Chat with him and get to the Bottom of this Love and Hugs xx

•
14 Jun 08
This is what makes me mad, he would have everyone thinking that he has a hard life because he is the step son, but do you know gabs, he gets MORE off my hubby than his own boys do. I get so cross sometimes at how hard my hubby tries with him, whatever that boy wants he gets. My hubby tries to help him with everything even to the point of taking him out with him for a night out to try and get him some decent mates. He has this huge chip on his shoulder, he will not take responsibility for anything he does wrong it is always someone elses fault. He gets a good wage in his job, yet it is me that still ends up paying his bike insurance month after month. I am sorry to go on but I tell you I am so sick of his poor little me routine and his attitude, and most of all I am sick of being unhappy because of him, I am getting so down that I want to leave!

• Canada
12 Jun 08
this is part of being a teenager, my son could lie so well he made me feel guilty, he made me question my sanity, was it true what he said, did I really say that, or do that, all the while it was a bold faced lie, it could to the point that I never knew when to believe him, I had to first consider everything to be a lie.

•
13 Jun 08
I know the feeling, the worst is defending them and finding out they have lied, that has to be the worst feeling ever.

• Canada
14 Jun 08
oh yes especially at school, you look like a real fool then.

• China
6 Jun 08
Wow it's parents' discussion here. I am still a kid of parents and don't have mine. Thus I am sorry that I don't really understand how a parent feel in these case. All I can understand it that is annoyed. I hope I didn't bother my parents that much. While I was at 16 something, I supposed I seldom lied to my parents. I did that earlier when I was in primary school. I lied because my father didn't trust what I said and I lied to save trouble. After all, be joyful. Or you can try to communicate with your 16 years old. That's how my parents and I became close after a huge argument solving all those problems.

•
6 Jun 08
It sounds like you have been a good young person for your parents, I think all younger ones lie to their parents at some point. But once they pass a certain age it is expected to stop, there is no need for it really.

• China
7 Jun 08
Trust me, kids can sometimes have weird thoughts. When I was 16 something, even though I didn't lied to my parents, I thought my dad didn't love me. All he cared is my school score. That's how I thought at that time. Then I understood the truth when I was older and communicate with my parents more. That's what I refer to as the huge argument. It was really a big argument with my mom. I thought I let out all I want to say in the past 20 years. Things are better now even though I can't say it's totally solved. Good luck to you.


•
5 Jun 08
Honey i can understand exactly how you are feeling! I have just had 2 great days with my 14 year old then I found out that on an activity day today he had taken his i-pod - to a theme park and on water rides where he got soaked - he said it was ok as he had it in a zipped pocket on the leg of his trousers, the very pocket where you could see in he photo that he was absolutely soaked to the skin at! When I asked him why he had done something so silly he flared up and went off on one - telling me it was in a waterproof cover - checked his ipod - NO cover on it! I gave him time to calm down and went top speak to him calmly and he told me that he was an adult and I was to get off my pedestal that I had put myself on! LOL Me on a pedestal - I beat myself up for every little thing and think I could have done something better! I guess it is a horrible age and boys seem to think we should treat them as men! xxx

•
5 Jun 08
The way our kids speak to us would have been unacceptable when I was their age. I would not have dared speak to mine like that. In fact I still would not. What do we do with these man children ah? xx


• Bahamas
8 Jun 08
Hi gemini! My kids lie to me... thank goodness they're not good liars. It seems your son is going through a time in his life where he's trying to find his identity, that by no means excuses his behavior. I always get upset when my kids feel they have to lie about the simplest of things. Now i know i can be tough at times but i perfer them to tell me the truth rather than lie.I tell them when you tell me a bunch of little lies, when you try to tell the truth, when it's really important.. i'll just think it's another lie after all how can i trust you to tell the truth. My kids are mostly well behaved kids, but believe me they have their moments.

•
14 Jun 08
Just lately it all seems to be going horribly wrong, I cannot get it right anymore and the whole thing not just with my eldest but all of them now, is getting me down. Something happens every single day and I can never find out the truth.

• Philippines
6 Jun 08
YES. I can relate to your situation. Eventhough I only have one daughter sometimes its still very hard especially when all things falls from heaven during those events when you are in a hurry and needed all the seconds to get somewhere on time. THat's when things really gets messy. Have tons of patience. What can we do. Sometimes things happens when we least expect them to. Its a test from someone. Hope you pass the test.

•
5 Jun 08
Oh Rose I can see how you are feeling here...they are wonderful but on the other hand a walking nightmare!!I must admit I think i came out of it all reasonably well but it was hard hard work.You have to have the patience of a saint and a bit more besides!!!they have a side thats kind and loving that fights a side that says they ought to treat you mean to keep you keen!!!!and the growing up process is a massive adjustment for them.But all I can say is hang on in there Rose and all will be well .I do remember feeling a complete and utter failure one day ,my daughter had got up to some dire mischief at the local youth club and it was reported back to me..well i was in floods of tears,what had i done wrong etc..was i such a terrible mother,oh i really bashed myself up about that for a good while after.But it wasnt really worth it!!

•
5 Jun 08
I know, I guess somedays I just think that I never expected mother hood to make me unhappy, and sometimes I am.

• Philippines
6 Jun 08
i am not a parent yet but i know how hard to become a parent....i saw how my parents got the hard times to raise us. How to feed their children, to send them to a nice and reputable school and universities. And sometimes they were not understood by their children. being a parent is a noble responsibility. Im so lucky that i have a very brilliant and smart parents because they have made me who i am today. They are the reason why i have these all that i have now. if i will be a parent someday, i would like to be like my parents a loving and responsible parent to my kids.

• Australia
5 Jun 08
wowww... that is really a tough morning for you... especially when you are in a hurry to get the children ready in 15 minutes time... and about your 16 year old son, i will definitely have a serious chat with him and punish him... i don't like people who lie... and he is so daring as to swear on your life as well... i am sorry to hear about this incident that you have to experience in the morning... hopefully the day will get better for you... take care and have a nice day...