Magazines you read!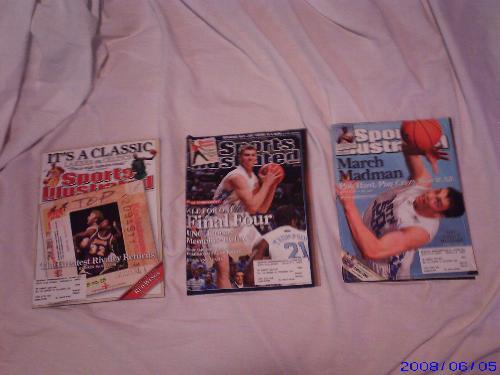 United States
June 5, 2008 10:18pm CST
I love sports so I will always read a sports magazine. My favorite is Sports Illustrated. I enjoy magazines because they are shorter than books. lol Plus their full of facts. I also read childrens magazines because I'm trying to become a childrens writer. So what magazines do you like to read?
6 responses

• United States
6 Jun 08
I also like sport magazines. Sport magazines are filled with information I care about. I also like sports illustrated like you and Bert how bout them celtics.

• Philippines
6 Jun 08
I love gossip magazines best, but I also read fashion magazines from time to time. People Magazine as well as In Touch and US Weekly are my top three gossip magazines. I like looking at what the stars are wearing and where they buy clothes or eat out just because it allows me to daydream for a while. :) Of course, really juicy gossip is a big pull. I like getting into other people's lives like that. AS for my favorite fashion magazines, InStyle would be the best to look at beautiful things, while Glamour and Preview (a local magazine in the Philippines) would have to be the most informative. I enjoy looking through magazines because I don't need to do much reaching. Mainly, I just look at the pictures and read the captions. I also like that the magazines I mentioned above have different sections ranging from traveling to dining, so it's not just gossip and fashion that I learn.


• Philippines
6 Jun 08
I have quite a lot of magazines that I like, and varied ones at that. I read Video Game magazines, Electronic Gaming Monthly for quite some time now. Maybe more than 8 years since I started reading it. I've been a hardcore gamer for quite some time. I read FHM as well, as a matter of fact, I collect them. Just curious about lots of different stuff.

And I read men's health magazine as well. I really want to become really fit and learn more about how we can make our lives vibrant and energetic.


• Singapore
6 Jun 08
Im a magazines freaks.I read different types of it.In my collection..i have entertainment magazines mostly.