What's the strangest food you have eaten?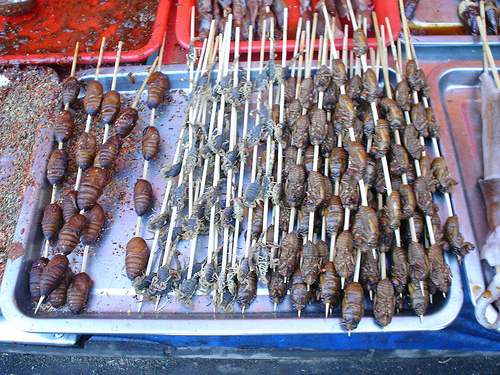 Philippines
7 responses


• United States
6 Jun 08
I don't recall eating any strange foods. My son, who is 13, had an outdoor challenge at school and they ate red worms, chocolate grasshoppers and crickets. He said that they didn't taste too bad. I can't even get him to eat vegetables and he is eating bugs at school...lol. They won the challenge though and got a medal for it. I am proud of him for at least trying it.

• Norway
6 Jun 08
I had champignon ice cream with cherry sauce. It tasted just like it sounds. It was very weird. I just had to try it when I found it in a restaurant in Paris. I do not think it will ever be a big hit, but it was a fun and interesting eating experiment

• Virgin Islands (U.S.)
6 Jun 08
Yuc! Grasshoppers! I am a very choosy person when it comes to my food. I was tricked into eating squids by an acquaintance; and when I heard what I had eaten I yoked my stomach up. I always said I would never eat them;they were very tasty going down. lol

•
6 Jun 08
well friend the strange food i have eaten so far is the cooked prawn. It didn't use to like prawns but the day i have eaten one, though by mistake, i have started loving them as they taste very well

• Malaysia
6 Jun 08
Where you eat the grasshopper? I know that there is many insect food in some South-East-Asia country like Cambodia, Thailand and other. The strangest food I eat before is something like Gecko, they are more than 1 meter in size.

• United States
6 Jun 08
I have tried calamari and escargot. I didn't like either. I do not eat anything that lives in water.