Why not restrict small children begging?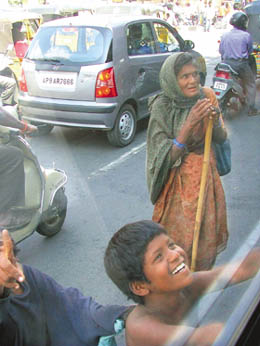 India
June 6, 2008 9:35pm CST
When the government has implemented restrictions on kids working in any restaurants, factories or any working place, why can't they implement the same to small children begging? it's very painfull to see such young kids going on streets begging isnt it? it will be nice if government interefers and maybe offer their parents soem job for their living isn't it?
4 responses

• Philippines
7 Jun 08
yes i agree with you it's very painful and depressing that there are poor kids begging almost everywhere. i wish there are lots of orphanage or government agencies that are truly committed in helping the youth especially those that are ages 10 and below, running and begging in the streets. it is too dangerous for them. they should be enjoying their childhood playing and learning in school. i hoped that once the authorities see a kid begging in the street, they should put the kid in custody of the social welfare agency and investigate the parent's neglect of their child. with that we can somehow prevent bad groups/organizations in using kids for their own gain, there are news that some even get internal organs of kidnapped kids just to sell them in the black market. authorities should strictly adhere to their public service principle and start protecting the people especially those kids!

• China
7 Jun 08
True, I always see many kids begging tn the street in my country. But I know they don't want to beg, their parent have great responsibilities, if they have . I also hope government could offer some job opportunities for them . But I think it unrealistic , government must solve the unemployment problem , and in the reality you want to live you must hard work by yourself .

• Philippines
7 Jun 08
Here in the Philippines, we also have so many street children and beggars who would run after some speeding cars in the hope of getting some change. I would say that we cannot totally blame the government for that because in the first place it is the parents who should be responsible for their children. Sure the government can always interfere, maybe they could give these parents some job, but I doubt if irresponsible parents like them could hold a job down, coz as I have seen here in the Phil, most of those parents, not all of course, who let their children beg in the streets, are basically lazy.

• United States
7 Jun 08
You've got to consider that some of these children are probably orphans. Also, many child beggars have parents that suffer from some form of mental illness. Therefore, the parents aren't "fit" to perform a regular job. For some children, there's no other way to get money and food, and that's the ugly truth of it.