High School Mates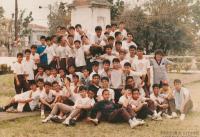 Philippines
June 7, 2008 11:42pm CST
I've been searching for a while to contact my high school classmates and luckily found some.This is the technology we are having right now and it is very good. This is the photo of our batch89, and you know what I could not found myself here.

I was totally different when I was young.lol.Did you try to do the same thing?Trying to find your high school classmates or something?
4 responses


• Philippines
8 Jun 08
My high school friends and I have been in contact till now. My best friend in high school became my sister-in-law. I marry her brother. Some of my friends are working abroad but we see to it that we say hi to each other every now and then. It really feels good when you're reminiscing your school days. But I still miss them. Too bad, all our pictures where lost when our house caught fire 7 years ago.

• United States
8 Jun 08
I've been using myspace. it helps me keep some tabs on my friends and all the classmates i could find i've added to my profile. i like myspace for that fact because otherwise, i don't really have much contact with my friends since we all live in different states and are busy on our own.

• Canada
8 Jun 08
I found that facebook was the best site to find old classmates, old groups, old places that you have visited. It is a great site and there is so much you can look up on there. The littlest thing is there. If you are looking for old classmates I suggest you look up facebook.com and check it out. Start typing in some of your friends names and go nuts. Good luck finding your mates.