will heroes be the most watch tv series?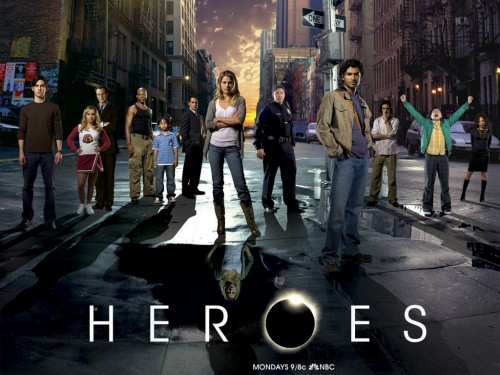 Philippines
8 responses

• Philippines
9 Jun 08
I've been a Heroes fan since season 1 but lately, it's not that hot anymore. I feel that there are too many unnecessary characters and the only good episode was when all the heroes got together in New York to defeat Sylar. After that, it wasn't that good anymore. Most of my favorite tv shows that aired after the Writer's Strike were able to regain the hotness and excitement. Hopefully, it will be the same for Heroes. I want more action especially with the main characters.

• Philippines
9 Jun 08
i agree with you, season 1 is so explosive but when season 2 comes its like it changed a lot. the new characters don't blend so much with the other mainstays. season 2 is so short , it ended with many questions. i hope season 3 is worth the wait for all of us heroes fanatics. by the way now that heroes isn't airing its season 3 what do you watch?

• Philippines
11 Jun 08
I've watched the first season of it, and I really loved it and was looking forward for the its season 2. I haven't watch yet the second season, so my judgment was based on my on its first season. well, no doubt if it will the most watch TV series of all time. they've created it so nice and lots of actions that you'll be more excited for the next season of it. I am not that interested in watching foreign TV series so I have no idea if there's more good TV series to watch aside from heroes. but I heard that, the second season isn't that good compared from the first one. well, since I haven't watch it yet, I can't give comments about it. but I'll get back to this topic as soon as I've watch the season 2 of heroes and give a constructive criticism about it.


• Philippines
11 Jun 08
please watch the second season of heroes, your missing the excitement. yup, your very right about what you've heard season 2 is not that great as season 1 but it will for sure in its 3rd season. hope you find ways to catch season 2 before season 3 starts. have a nice day.

• Philippines
12 Jun 08
sure, I'll find a way to get a dvd copy of heroes season two..

• Philippines
12 Jun 08
hope you enjoy the second season. get ready to see the new sylar.


• Suriname
17 Jun 08
Ya I say so to man. But I didn't see the eries for a very long time now. What about the series of supernatural? I like that one to ya know. What about you?

• Philippines
17 Jun 08
yup, the second season was so short but i think they would do there best to come up with a very long and exciting third season. haven't tried watching supernatural. is it better than heroes? do they deal with powerful character also?

• Suriname
18 Jun 08
In supernatural there're two brothers that are fithing evil spirits in the world en there holl jurney is to seek this boss demon and in the meen while they are meting all sorts of evel things. But heroes I like to ya know. I hope they will play it again sometime on tv.

•
21 Jun 08
I love the show, but I doubt it will be that popular. It had built up a good fan base after the first season, but I think the writer's strike killing the second season is really going to hurt. I heard a lot of criticism of Season 2 to begin with, and I have a feeling there's going to be a problem with return viewership.

• Philippines
24 Jun 08
if they can do a drastic change in season 3 many will stay tuned with it and they need to make the full season because season 2 is so short. lets all stay tuned if heroes make it big again.


• Philippines
11 Jun 08
yup, your missing a lot. this series can be very addictive because if you get started you'll never stop till you finish the whole series. season 3 will come out soon so you still have time to catch the first two season. hope you'll like heroes.

• India
1 Jul 08
Yes i agree with you . Even though there are other shows which are great, Heroes is not just another sci-fi tv series it has an almost every element of emotion a TV series should have.

• Philippines
24 Jun 08
as for me, yes, definitely, absolutely. I like the twists of the story and somehow I imagine I'm one of the characters there. My friends usually watch Prison Break, The hIlls , etc but I'm kinda sick of the format of those tv shows. They always talk about every episodes they but I find it boring. I want something with thrill and that's what Heroes is all about.

•
24 Jun 08
Now that series 2 has got into its swing here in UK I am enjoying it better. Trouble is work often takes me away the night it is on and believe me, I'm no fan of the video receorder. Suppose I'm just old-fashioned but I enjoy a show in its regular slot. It's one of the best things that's been on the box for years.